Top 5 Reasons Why You'll Love Staying at Our Campground Near Dollywood
September 12, 2023
If you are planning a trip to Dollywood and looking for the perfect campground near the theme park, look no further! Our campground  is the best campground near Dollywood because it has everything you need for a wonderful camping experience in the Smoky Mountains, including a beautiful natural environment, fun recreational opportunities, and plenty of convenient amenities. After an action-packed day at Dollywood, you can look forward to returning to the peaceful park-like setting of our campground! Here are the top 5 reasons why you'll love staying at our campground near Dollywood:
1. Excellent Selection of Campsites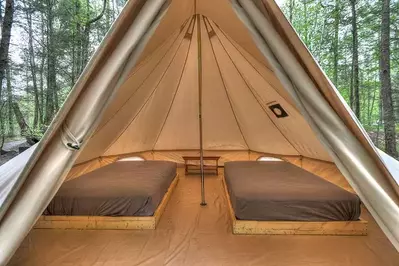 Our campground near Dollywood features an excellent selection of campsites, ranging from tent sites on the river to RV sites with full hookups. If you are looking for something unique, you will want to check out our bell tents. These are a great alternative for those campers who prefer a little extra amenities, such as a pillowtop bed and interior and exterior lighting. Our other camping accommodations include RV rentals, a camping cabin, and deluxe camping cabins!
2. Easy Access to the Theme Park
The best part about camping near Dollywood is the easy access to the theme park on a few convenient backroads that avoid the traffic coming from Pigeon Forge and Gatlinburg. You can be quickly on your way to enjoy the park's incredible lineup of thrill rides and award-winning shows! After a day of walking around the park, come back to our campground for a refreshing dip in our private swimming area or a relaxing campfire under the stars.
3. Fun Recreational Opportunities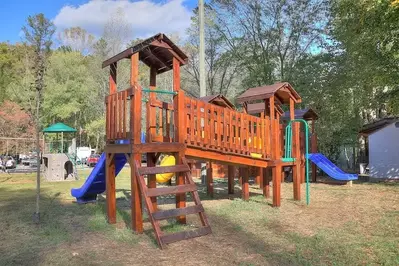 Another reason why we are the best campground near Dollywood is because of all the recreational opportunities. We are pleased to offer a variety of sports equipment so you can play fun games like volleyball, badminton, bocce ball, corn hole, and horseshoes with your family and friends. If you have younger children in your family, they will have a blast playing on our playground equipment and checking out our free game room. Many of our guests also enjoy hiking and love that the Greenbrier entrance to Great Smoky Mountains National Park is less than a half mile away! You'll find so many fun activities, you may not want to leave!
4. Great Campground Rates
You will be excited to know that our campground is incredibly affordable, making it easy on your vacation budget! We are pleased to offer low campground rates so you have more money to spend at Dollywood and other attractions throughout the Smokies. When you add in all of our amenities, it is easy to see how camping near Dollywood with us is the best value around!
5. Pet Friendly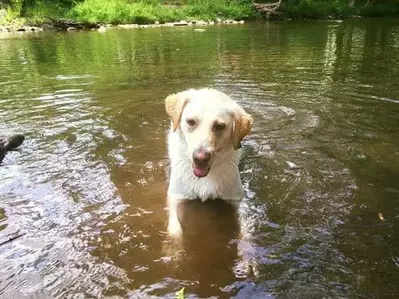 Many folks staying at our campground near Dollywood love that it is pet friendly and enjoy bringing their furry companion along for the fun! We even have a dog park where your canine companion can get some exercise and run to their heart's content! Of course, we do request your pet is attended at all times for the comfort and safety of your fellow campers. Don't let this keep you from going to Dollywood as the park offers a Doggywood kennel service at the front gate! Just remember to make your reservation in advance as kennel spots are limited.
Stay at the Best Campground Near Dollywood
Check out all of the information about our campground near Dollywood today to plan your camping adventure in the Smoky Mountains! We look forward to seeing you soon and providing you with the best camping near Dollywood!