Want to Plan the Perfect Camping Trip? Use Our Smoky Mountain Campground Map!
February 26, 2018
If you are planning a camping trip to the Great Smoky Mountains and searching for the best campsites in the area, look no further than Greenbrier Campground! We have nearly 100 campsites to choose from, so take advantage of our Greenbrier Campground map to help plan your vacation! Here are the top 4 reasons why our Smoky Mountain campground map is helpful for planning your camping trip:
1. Specific Camping Locations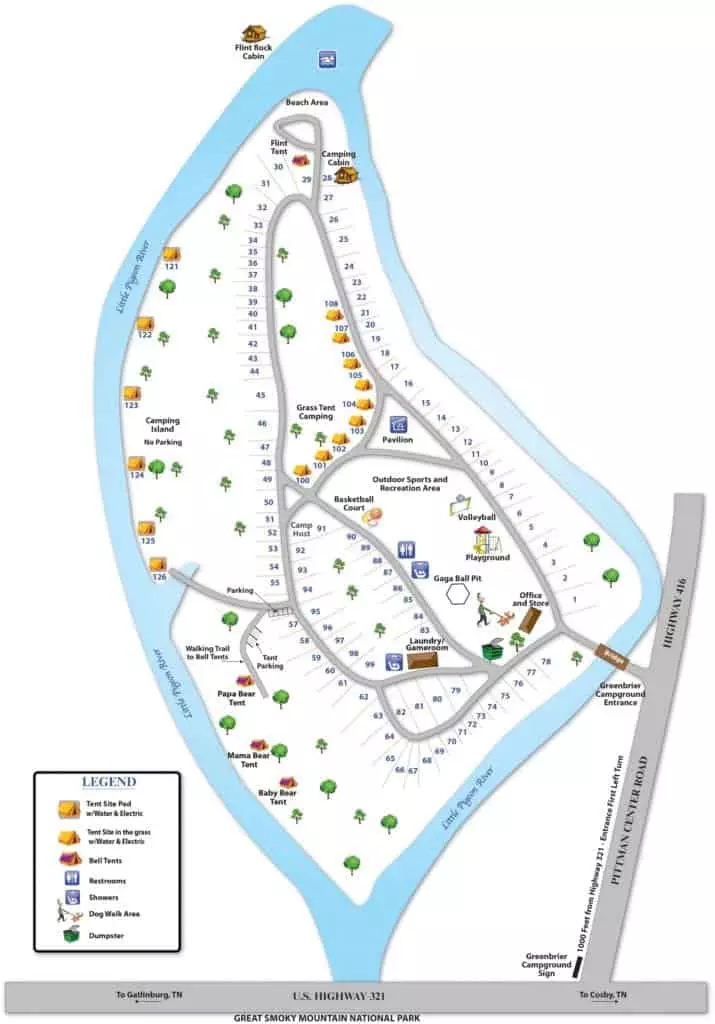 Our Smoky Mountain campground map indicates the specific camping locations for all of our campsites so that you can select your preferred location! We have everything from wooded sites to premium sites on the river, all of which offer a fantastic camping experience under the stars! Our open area near the beach and swimming hole is perfect for groups, while families with kids may prefer to stay closer to our playground and recreation area. Whether you want to stay adjacent to our beach area or steps away from the laundry room, we have the perfect campsite for you at Greenbrier Campground!
2. Shows Proximity to National Park
Another reason that the Greenbrier Campground map is helpful for your camping trip is that it shows just how close we are to the Great Smoky Mountains National Park! If you are planning on exploring some of the scenic hiking trails in the park, you will love the fact that our campground is just a short drive away from the Greenbrier Entrance into the park! The awesome thing about this entrance is that it is off the beaten path for most visitors, so this section of the park is generally not very crowded. Another bonus is that the Greenbrier section boasts some of the park's best wildflower viewings and one of the top waterfalls in the Smoky Mountains!
3. Provides a Visual Image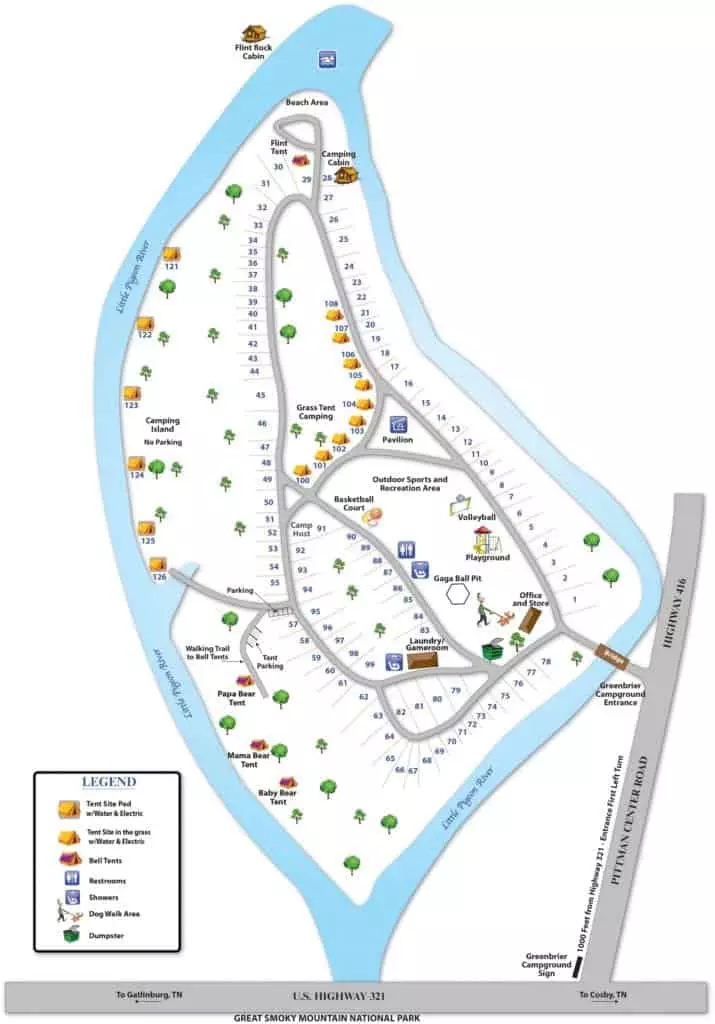 Although you can imagine what our campground might look like based on a description, our Smoky Mountain campground map helps to provide a visual image of the layout! The Little Pigeon River surrounds the Greenbrier Campground, offering unique recreational opportunities for all of our guests! Our campers have access to the best swimming hole in the Smokies, as well as a private beach and excellent trout fishing along the banks of the river. Our outdoor recreation area also has plenty of fun things to do such as volleyball, badminton, horseshoes and cornhole!
4. Displays Clear Directions
If you have never been to the Greenbrier Campground in the past, our map displays clear directions on how to locate our campground. Our entrance is situated just 1,000 feet past Highway 321, providing easy access to Gatlinburg, Cosby and other areas. In fact, our campground is just a short drive from downtown Gatlinburg, where you can enjoy a variety of popular attractions, restaurants and shops.
Check out all of the details about our campground in the Smoky Mountains today and plan your vacation using our Smoky Mountain campground map. We look forward to seeing you this season at Greenbrier Campground!