4 Common Myths Debunked About Camping in the Smoky Mountains
April 29, 2022
If you always wanted to try camping in the Smokies but were hesitant for one reason or another, we are here to put your mind at ease! Our Smoky Mountain campground offers the ultimate camping experience, complete with beautiful sites, convenient amenities, fun recreational options and more! For those who are still a bit on the fence about camping for the first time, here are 4 common myths debunked about camping in the Smoky Mountains:
Myth #1: Camping Experience is Necessary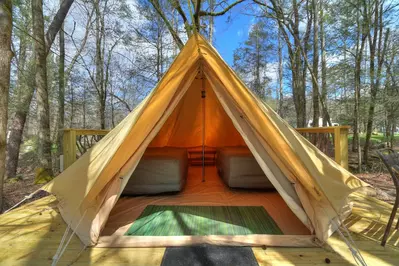 The truth is that you don't need any prior camping experience to enjoy Smoky Mountain camping! After all, everyone was new to camping at some point! Our campground is the perfect place for your initial camping experience, as even our tent sites feature access to water and electricity! If you are worried about setting up a tent, consider one of our bell tent rentals to upgrade your vacation! The bell tents offer a great way to enjoy camping for the first time, with some extra amenities such as interior and exterior lighting, a fan, table and pillow top mattresses!
Myth #2: Camping Means "Roughing It" in the Woods
Another one of the common myths about camping in the Smoky Mountains is that you'll be "roughing it" in the woods! While this might be somewhat true while camping in the backcountry of the Great Smoky Mountains National Park, it couldn't be further from the truth when staying at our campground in the Smokies! We offer a modern bath house so that you always have easy access to clean restroom facilities and a refreshing shower! You'll also find a coin operated laundry facility where you can wash your clothes after a scenic hike or a dip in our famous swimming hole!
Myth #3: You Need to Eat Out of a Can When Camping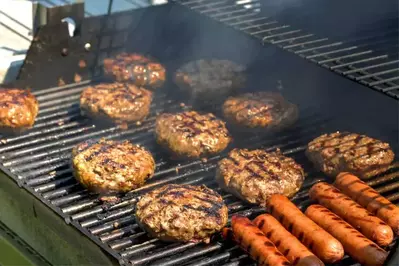 Some folks are hesitant about camping because they feel like they'll have to eat out of a can for a week! The truth is that you can enjoy a wide variety of tasty cookouts at our campground and your menu is only limited to your imagination! Each of our campsites features a charcoal grill and a picnic table so that you can enjoy cooking all of your favorite foods, including traditional cookout foods like burgers, hot dogs and chicken! You don't even have to worry about finding fresh groceries, as Greenbrier Grocery is within easy walking distance of our campground!
Myth #4: You Won't Be Able to Bring Electronics on a Camping Trip
In this era of modern technology, we know how important it is to stay connected online! Therefore, you might be concerned that you'll have to leave all your electronics back home when camping! The truth is that our Smoky Mountain campground offers wireless Internet access so that you can connect all of your favorite devices and keep in touch with your family and friends! The WiFi access also comes in handy for getting the weather forecast, researching nearby hiking options and making future campground reservations!
Now that we've debunked some of the most common myths about camping in the Smoky Mountains, check out all of the information about our campground in the Smokies to plan your adventure! We look forward to seeing you soon!