Get an Inside Look at Our Smoky Mountain Campground With Our 360 Virtual Tour
July 28, 2022
Would you like to go camping with us in the Smokies? Before you even step foot on our property, you can get an insider view so you know what to expect! Thanks to our virtual tour, you are able to visit some of the most popular areas of our campground from your home so you can get an idea of how things are set up! Here is how you can use the 360 virtual tour to check out our Smoky Mountain campground:
Explore the Sites
When you look at a campground map, you will be able to get a rough idea of how big the sites are so you can make sure you will have enough room for your tent or RV. However, when you take advantage of our 360 virtual tour, you can be sure to find the perfect site for your camping trip. If you want a spot that gets a little more shade or that is located by the river, you can get a real life view of your site before you even load up the car! You will also be able to follow the roads that lead to your site to ensure you have enough space to pull your RV!
Check Out Our Amenities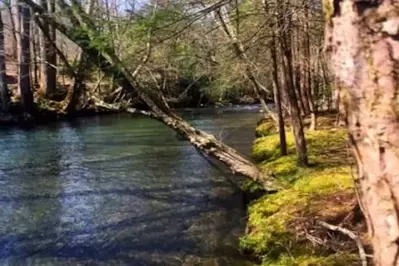 Before your trip, you can take a look at all our amazing Smoky Mountain campground amenities and know exactly where they are located. This is especially helpful for families who have young children. You can make sure that your tent or RV site is located near a playground so you won't have to worry about your children traveling long distances to have fun on the recreational equipment. Some of the other amenities you can explore on the virtual tour include the dog park, swimming area, bath house, and much more.
Choose Your Lodging
Did you know we offer more lodging options than just your typical tent and RV sites? With our 360 virtual tour, you can get an inside look at our other luxury camping options. We offer unique bell tents that are equipped with two full size pillow top mattresses, a fan, and a table. The best part about the bell tents is that they are set up and ready for you when you arrive, saving you the hassle of setting up camp. We also offer four deluxe camping cabins that are located just feet from the Little Pigeon River. These units sleep between 4 and 6 people and have added amenities that your family will love!
Stay Up to Date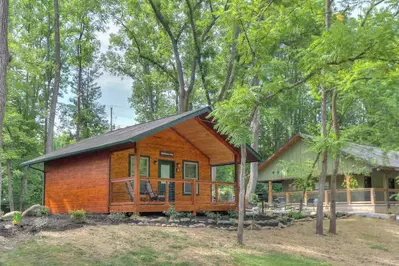 We are constantly adding new things to our Smoky Mountain campground that make your camping experience better than ever! If it has been a few years since your last stay with us, you can stay up to date with all the additions we are making. Our deluxe camping cabins are a new addition to the 2022 season, and we have also recently added a new RV section with spacious sites and gorgeous views! As you begin to plan your next camping trip, be sure to use our online tour to prepare!
After you take the virtual tour of our Smoky Mountain campground, you can reserve your site and experience camping in the Smokies in real life! We look forward to seeing you soon!