4 Activities to Enjoy Around the Campfire at Our Smoky Mountain Campground
December 27, 2019
When it comes to the traditional camping experience, nothing is more special than the evening campfire! Therefore, all of the camping sites at our Smoky Mountain campground feature a fire ring so you can enjoy a campfire every night of your stay! As you gather your family and friends around the fire, you are sure to create some wonderful new memories to last a lifetime! Here are 4 fun activities you can enjoy around the campfire at our Smoky Mountain campground:
1. Make S'mores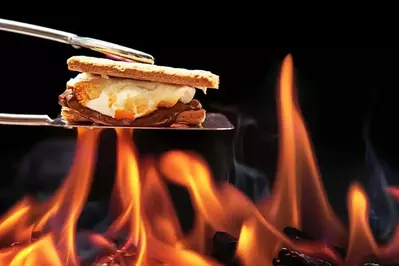 No campfire experience is complete without making s'mores, so be sure to bring along all the ingredients for this legendary snack! All you need is graham crackers, plain milk chocolate bars, and large marshmallows, as well as wood sticks or long metal skewers for roasting marshmallows. If you do happen to forget anything, stop by our Camp Store because we may have just what you need! After placing a portion of your chocolate bar on the graham cracker, toast your marshmallow over the fire until the outside of the marshmallow is golden brown. Place the marshmallow on top of the chocolate, then lay the other half of the graham cracker on top. Push down firmly to pull out the skewer. You are now ready to enjoy your delicious treat!
2. Tell Ghost Stories
Once darkness has completely settled in, gather around the campfire at our Smoky Mountain campground to tell ghost stories! This traditional campfire activity is spooky and fun because everything is pitch black except for the dancing flames of your fire! Use your wildest imagination to come up with some ghost stories to scare your friends, or do some research before your trip to find out some local folklore about the Smokies. Of course, you never have to worry as no guests have ever reported any actual ghost sightings at our campground!
3. Look at the Stars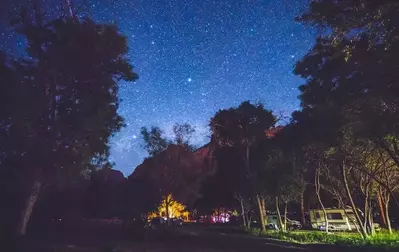 Our Smoky Mountain campground offers the perfect opportunity for stargazing, and there is no better place to do it than around the warmth of your campfire. Even if you do not have a telescope or binoculars, you will be amazed at what you can see without the light pollution of a nearby city! If you have children in your family, this is a fabulous opportunity to introduce the kids to the world of astronomy and point out some constellations! Learn more about why our Smoky Mountain campground is perfect for stargazing!
4. Play Games
Spend the evening around the campfire playing games with your family and friends! Bring a deck of cards to play some of your favorite card games or enjoy other games where you don't have to move around much around the campfire. There are plenty of fun games you can play without having to bring anything, such as "Telephone." During this game, you simply whisper a message around the campfire to see how the message changes once it reaches the end of the line!
Now since you know some of the fun activities to enjoy around the campfire, check out all of the information about our Smoky Mountain campground today to plan your camping adventure! We look forward to welcoming you!