Top 5 Benefits of Staying at Our Campground Near Gatlinburg TN
August 28, 2023
One of the awesome things about the Greenbrier Campground is that despite our stunning location among the beauty of the Great Smoky Mountains, we are still just a short drive from the action of downtown Gatlinburg! Here are the top 5 benefits of staying at our campground near Gatlinburg TN:
1. Beautiful Environment
The top benefit of staying at the Greenbrier Campground is the opportunity to camp among the beautiful environment of the Smokies! Wake up each morning to the gentle sounds of nature as the fresh mountain air fills your lungs. Our campground is surrounded by the Little Pigeon River, which adds even more to the lovely ambiance. After spending a few hours exploring the busy streets of downtown Gatlinburg, you can look forward to returning to the peaceful location of our campground.
2. Excellent Recreational Facilities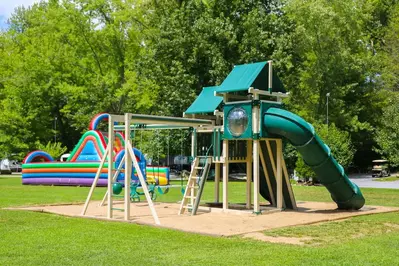 Another benefit of staying at our campground near Gatlinburg TN is the access to our excellent recreational facilities! We are pleased to offer volleyball, badminton, cornhole, horseshoes and other equipment so that you can have a blast with your family and friends! As if that doesn't sound good enough, the Greenbrier Campground also features the best swimming hole in the Smoky Mountains! If you have children in your family, they will love playing on our playground equipment or checking out our exciting game room. There is so much to do at our campground that you may never want to leave!
3. Access to Luxury Bath House
The Greenbrier Campground features a luxury bath house so that you can always have access to clean restrooms and shower facilities. There is nothing quite like a refreshing shower after an action-packed day of exploring the hiking trails at the Great Smoky Mountains National Park! The bathhouse is conveniently located in the center of our property so that it is never a long walk from your campsite.
4. Convenient Campsite Amenities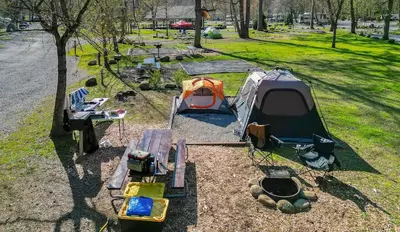 All of our campsites feature convenient amenities for you to enjoy, even for those folks who are tent camping! Every site features a picnic table and a fire ring so that you can enjoy a delicious picnic lunch or dinner among the spectacular backdrop of the mountains. During the evening hours, have a fun campfire where you can tell ghost stories, roast s'mores and relax under the stars!
5. Free Wireless Internet Access
While staying at the Greenbrier Campground, you can take advantage of free wireless internet access throughout your stay! While we know that you want to enjoy getting away from it all, it is always helpful to have an online connection to check the latest weather forecast, review local driving directions and more. The complimentary wireless internet access also comes in handy for researching information on restaurants and attractions in downtown Gatlinburg, as well as for keeping in touch with your family and friends back home!
Check out all of the information about our campground near Gatlinburg TN today to plan your camping adventure in the Smoky Mountains! We hope to see you soon at the Greenbrier Campground!