Top 5 Reasons Why Our Campground in the Smokies is Perfect for a Church Retreat
April 22, 2022
If your church group has been searching for the perfect destination for a retreat, look no further than our Smoky Mountain campground! Our lovely campground features excellent facilities for both tent and RV camping, as well as a ton of fun amenities for your group to enjoy throughout your stay! As a bonus, your group can take advantage of our discounted group rates! Here are the top 5 reasons why our campground in the Smokies is perfect for a church retreat:
1. Outdoor Pavilion for Fellowship
One reason why our campground in the Smokies is perfect for a church retreat is because we offer an outdoor pavilion where your group can gather for fellowship and other social activities! Whether you want to have a morning worship service, enjoy an afternoon picnic or share some time together in the evening, take advantage of the outdoor pavilion for all of your fellowship needs!
2. Stunning Natural Environment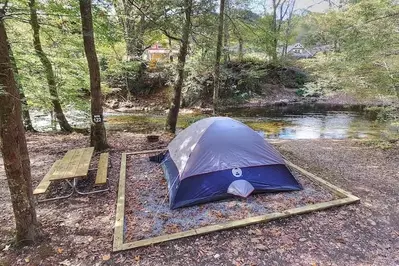 Our Smoky Mountain campground offers a stunning natural environment that your church group will love, as we are surrounded by the beauty of the mountains and the Little Pigeon River! There is no better place in the Smokies to enjoy the great outdoors, so relax at your campsite and soak in the amazing atmosphere! If you think the scenery during the daylight hours is impressive, just wait until nightfall when you see the stars shine brightly above our campground!
3. Discounted Group Rates
While the rates at our campground are already affordable, your church group can take advantage of our discounted group rates! We are pleased to offer these rates for groups who reserve at least 8 sites, so even smaller church groups can take advantage of this amazing discount! We also offer a group tent camping area close to the outdoor pavilion, bath house, beach and swimming area!
4. Fun Campground Amenities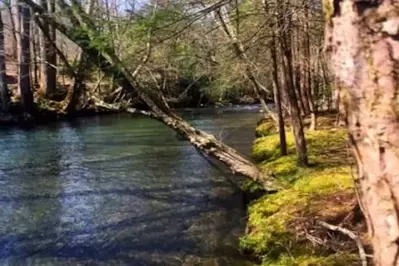 Your church group will find so many fun campground amenities that you could spend your entire retreat without leaving the property! We offer a number of exciting recreational options, including volleyball, badminton, corn hole, horseshoes and more! If there are any young children attending your church retreat, they'll love playing for hours on our playground or splashing around in the best swimming hole in the Smoky Mountains!
5. Close to Popular Attractions
If your group does decide to spend a day or two outside of our campground in the Smokies, you'll be excited to know that we are just minutes away from some of the area's most popular attractions! Whether you are heading to Dollywood, The Island in Pigeon Forge, Ober Gatlinburg, Anakeesta or the Gatlinburg SkyLift Park, everything is just a short drive from our property! You'll also find plenty of wonderful hiking options nearby, as the Greenbrier entrance to the Great Smoky Mountains National Park is less than a half mile away!
Check out all of the information about our campground in the Smokies today to plan the perfect church retreat in the Smoky Mountains! We look forward to seeing your church group soon!