4 Best Places to Play Mini Golf in Gatlinburg
April 17, 2023
While there are plenty of fun activities for your family to enjoy at our campground, you might be looking for some fun attractions to visit nearby. One of the most popular activities for families to do when they are on vacation is mini golfing. Luckily, Gatlinburg is filled with some magnificent courses that your family will love! Here are the 4 best places to play mini golf in Gatlinburg:
1. Ripley's Davy Crockett Mini Golf
There is no better backdrop to a family game of mini golf than the Smoky Mountains. That is precisely what you get when you go to Ripley's Davy Crockett Mini Golf. There are two unique courses to test out, equaling 36 holes of fun! Both courses are themed to honor the life and history of famed Tennessee hero Davy Crockett. Challenge your friends and family to see who is the best mini golfer of the group as you wind your way up the mountain. If you are really talented, you may just come away with a free game as well. On the last hole of each course, if you are able to make a hole-in-one, you can win a free round of golf. If you do, then you will just have to play again! The mini golf course is just one of the fantastic Ripley's attractions in Gatlinburg.
2. Gatlin's Mini Golf
As the largest place to play mini in Gatlinburg, Gatlin's Mini Golf offers 45 different holes to test your putting ability! They have two different courses that are both located on a hillside. As you make your way through the courses, you will see all types of native flowers and plants. Also, there are several oak trees scattered around the property that are over 100 years old! With all the amazing scenery, it is no wonder that Gatlin's Mini Golf was voted "Best Attraction in Landscaping" by the City of Gatlinburg. Not only will you see some beautiful flowers on the course, you can also learn some history while you play. Before you begin each hole, be sure you read the placard, which will tell you about Gatlinburg's early settlers and fascinating past.
3. Circus Golf
Circus Golf is one of the area's only blacklight mini golf courses. This adds an extra twist to your game because you are trying to golf in a room that has flashing lights and optical illusions. This course will be very popular among young kids because it is set up to look like a circus show. As you make your way through the 18-hole course, you will pass by some of the most famous circus animals, including lions and elephants. Take a trip through the circus ring as you test to see who in the family is the ultimate ring leader! This is definitely one of the most fun places for mini golf in Gatlinburg!
4. Hillbilly Golf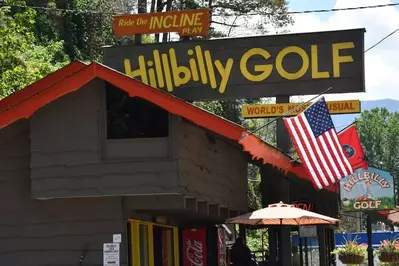 Have you ever wondered what it would be like to play mini golf while on the side of the mountain? Be sure to check out Hillbilly Golf in Gatlinburg on your next visit and find out! There are two different Appalachian themed courses that every member of the family will love. It's not often you can enjoy a game of miniature golf while also making a hike in the Smokies! That is precisely what Hillbilly Golf in Gatlinburg offers. Don't worry, you will be having so much fun golfing you won't even realize you are making the way up the side of the mountain!
When you stay at our campground, you will be close to all the best places to play mini golf in Gatlinburg. Be sure to check out some of the other amenities available when you stay with us! We hope to see you soon in the Smoky Mountains!