Top 4 Restaurants in Gatlinburg for Large Groups
January 18, 2022
Camping is the perfect activity for large groups. At our Smoky Mountain campground, we have 120 full hookup campsites. Therefore, everyone in your family that enjoys camping can vacation together! While you can always take advantage of our on site grills to cook up a delicious meal, some people who rather eat out at local restaurants in town. Here are 4 restaurants in Gatlinburg that are perfect for large groups:
1. The Park Grill
If you are traveling with a large group, The Park Grill in Gatlinburg is the perfect place to enjoy a delicious meal. They have both private and semi-private dining rooms that are ideal for any special occasion. When it comes to the menu, they offer a great selection of all types of different entrees. From burgers and sandwiches to steak and seafood, they can provide the perfect dinner for all tastes and budgets! Be sure to save room for dessert because you will definitely want a taste of either the blackberry cobbler or the banana pudding!
2. Calhoun's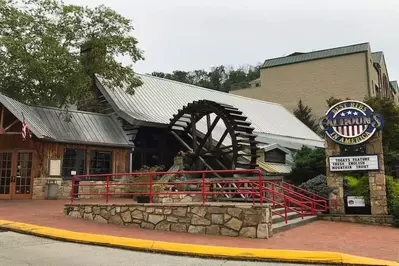 It's not a true Smoky Mountain vacation without a little BBQ! Whether you want some baby back ribs or a traditional pulled pork sandwich, Calhoun's is one of the best BBQ restaurants in Gatlinburg. Since their first restaurant opened in 1983, Calhoun's has been quickly spreading throughout all of East Tennessee. The key to their success has been sticking to what works. They have been using the same recipes since the day they first opened because why mess with success? Inside the Gatlinburg location, they have plenty of seating for your entire group to enjoy a delicious BBQ dinner!
3. Alamo Steakhouse
Alamo Steakhouse does their part to remember and pay tribute to one of the biggest battles in United States history. What you might not realize is that Tennessee, and the Smoky Mountains, has more connections to The Alamo than you think. For example, Tennessee war hero Davy Crockett was sent to Texas, along with 2,000 other Tennesseans, to help fight in the battle. Now, you and your group can help the memory live on at one of the best steakhouses in Gatlinburg. We promise everyone in your party will love the delicious food and lively atmosphere of Alamo Steakhouse!
4. Big Daddy's Pizzeria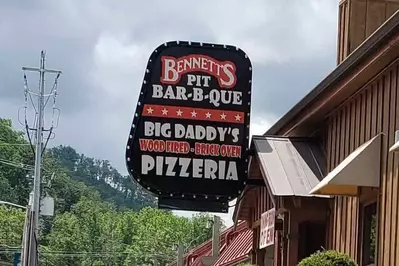 When you are dining with a large group of people, it can be hard to agree on a restaurant. However, you can never go wrong with pizza, especially from Big Daddy's Pizzeria . All the magic happens inside the 550 degree brick oven. After your specialty pizza is hand tossed and built with the toppings you want, it is thrown into the brick oven where it is cooked to perfection each and every time!
When you stay at our Smoky Mountain campground, you will be able to easily access all the best restaurants in Gatlinburg! Are you ready to start planning your next camping trip? Check out our campground map to find the perfect site for you and your family! We hope to see you soon!