3 Fun and Spooky Ghost Tours in Gatlinburg
May 04, 2022
If you are looking for inspiration for telling ghost stories around the campfire, you'll want to join one of the spooktacular ghost tours in Gatlinburg! These unique walking tours combine the fascinating history of the Smokies with some of the area's macabre events to create an unforgettable evening! You'll not only learn more about the Smoky Mountains, but have plenty of creepy stories to share with your family and friends! Here are 3 fun and spooky ghost tours in Gatlinburg:
1. Ghost Walk of Gatlinburg
The Ghost Walk of Gatlinburg takes you on a leisurely stroll through the shadowy streets and alleys of Gatlinburg to hear stories of the unexplained! You'll learn about some of the haunted hotels and buildings in the downtown area, including a famous hotel where the ghostly figures of a young woman and security guard still walk the halls! Your professional guide will also take you to see a cemetery that was built in 1830 and share some of the photos taken of paranormal activity right on the tour route! Remember that this is not a haunted house tour with people in costumes jumping out of you, but a storytelling experience with a twist of murder and mayhem!
2. Gatlinburg Ghostwalks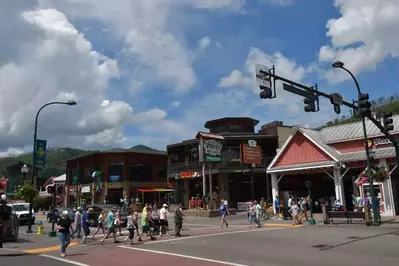 Another one of the fun and spooky ghost tours in Gatlinburg is Gatlinburg Ghostwalks, where you'll go on a walking adventure to explore the haunted history of the downtown area! This is your chance to discover whether the spirits of early pioneers still frequent old frontier trails and learn about the graves of the original native people in the Smokies! Many of the buildings on the Gatlinburg Ghostwalks tours have been investigated by professional research teams, so you'll also become familiar with the findings of these paranormal investigations! Note that each tour lasts between 2 to 3 hours, but usually covers less than one mile of walking distance.
3. Ghost and Haunt Tours of Gatlinburg
Ghost and Haunt Tours of Gatlinburg
About Our Smoky Mountain Campground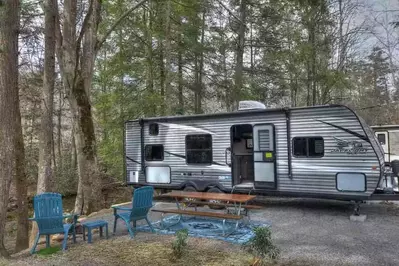 You never have to worry about ghosts haunting our campground, where you can enjoy a fabulous evening camping out under the stars! We offer plenty of fantastic sites for tent and RV camping, as well as bell tent rentals, RV rentals and a comfortable camping cabin! While staying with us, you'll love the natural surroundings as we are situated in the mountains and right next to the Little Pigeon River! We offer a ton of great amenities too, including recreational equipment, playgrounds, luxury bath houses, free WiFi and the best swimming hole in the Smokies!
Check out all of the information about our Smoky Mountain campground today to make your reservations and stay close to these fun ghost tours in Gatlinburg! We look forward to welcoming you to our beautiful campground!