Top 3 Reasons Why Outdoor Enthusiasts Love the Gatlinburg NOC Store
April 10, 2023
When it comes to the ultimate shopping experience for outdoor enthusiasts, you won't want to miss the Nantahala Outdoor Center (NOC) store in downtown Gatlinburg! This massive retail store sits at the entrance to the Great Smoky Mountains National Park and carries everything from quality outdoor gear to local goods and gifts! Whether you need a few camping items or just want to see the newest gear on the market, be sure to put this amazing store on your itinerary! Here are the top 3 reasons why outdoor enthusiasts love the NOC store:
1. Thousands of Name Brand Products
The Nantahala Outdoor Center in Gatlinburg TN carries thousands of products from your favorite outdoor brands such as The North Face, Columbia, and Patagonia! There is 18,000 square feet of retail space to explore, so allow plenty of time to enjoy this unique shopping experience! Since the NOC is conveniently located at the entrance to the National Park, you'll want to make this your first stop when arriving in the Smoky Mountains!
2. Perfect Place to Gear Up for Your Camping Trip
Another top reason why outdoor enthusiasts love the NOC store is that it's one of the best local stores to gear up for camping in the Smoky Mountains! Whether you need hiking shoes, a new backpack, or a bathing suit for our famous Flint Rock swimming hole, you're sure to find it here! You never need to worry if you forgot to pack something for your camping adventure as the shelves are packed with all the camping equipment you would ever need!
3. Fun for Young Outdoor Enthusiasts
If you are planning a family camping trip and have children who love the great outdoors, they'll also find that the Gatlinburg NOC store is a fun destination! In fact, there are several activities in the store that are specifically geared toward kids! Your children will have a blast walking across the second floor swinging rope bridge, crawling through a kid-friendly "bear cave", ascending a 25-foot tall climbing wall, and relaxing in front of a giant fireplace!
About Our Smoky Mountain Campground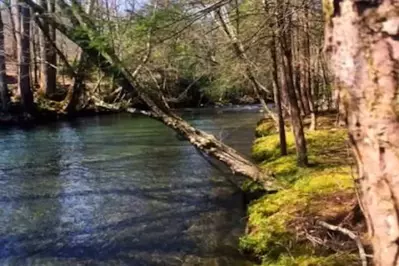 After picking up any last-minute camping supplies at the Gatlinburg NOC store, you'll be all set for an exciting stay at our campground in the Smokies! We offer 120 full hookup campsites for your tent or RV, or you can choose to stay in one of our beautiful camping cabins! Our property is situated in a stunning location that is surrounded by the Little Pigeon River and there are plenty of fun activities for families to enjoy, including playgrounds, sports equipment, outdoor billiards, and a free game room! Come see for yourself why so many folks camp with us year after year for their annual vacation to the Great Smoky Mountains!
Check out all of the information about our Smoky Mountain campground today to learn about our fantastic location near the Gatlinburg NOC store, as well as our campsite amenities, recreational opportunities, and more! We look forward to seeing you soon!