5 Reasons to Plan a Summer Trip to Our Great Smoky Mountains Campground
June 25, 2021
Are you thinking of visiting the Smokies this summer? You'll find plenty of great activities you'll want to try, from hiking to exploring downtown Gatlinburg. Now, you just need a place to stay! Check out these 5 reasons why you should plan a summer trip to our Great Smoky Mountains campground:
1. Great Weather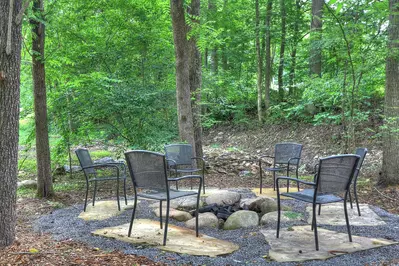 When it's summer in the Smokies, the weather is usually sunny and warm. You won't have to worry about being cold at night because the temperatures usually stay in the 70s. During the day, it stays in the 80s and 90s, making it the perfect weather to be outside! While the occasional thunderstorm will come in, you'll find plenty of fun things to do when it rains at our campground!
2. Enjoy the Outdoors
Another perk of booking a summer trip to our Great Smoky Mountains campground is being able to spend time outside. This area of East Tennessee is known for its beauty, so you'll want to plan to spend some time outside! A great outdoor activity is to have a picnic or a prepare meal on the grill since they are available at every camp site. We also have volleyball, cornhole, and other fun outdoor games you can play together. Our campground is also close to the Great Smoky Mountains National Park , so you'll be able to easily go hiking on different trails!
3. Swim in the River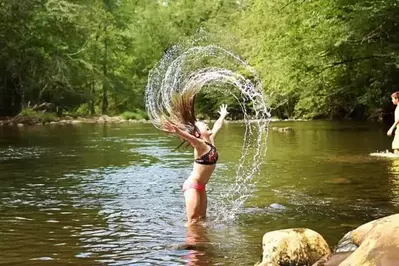 One of the popular amenities at our campground is the swimming hole at the river! We are located right next to the river, so you can watch the water rush over the rocks, dip your toes in, or jump right in and swim! Many people also get a fishing license so they can fish up and down the water line during their vacation. Spending time in the river is a great way to cool off in the summer heat!
4. Close to the National Park
A huge perk of staying at our Great Smoky Mountains campground is being so close to the national park. It doesn't cost anything to visit the park, making it one of the most popular places to visit in the area! You can go hiking, take a drive, or have a picnic at one of the picnic areas in the park. No matter how you want to spend time with your family in the park, you'll love how close we are to it!
5. Plenty of Camping Options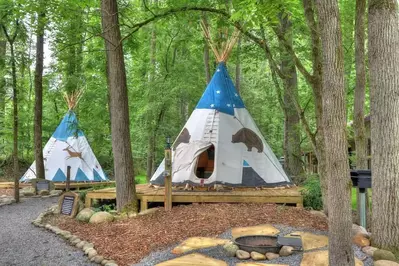 Another reason you should spend the summer with us is because we have a ton of camping options. You can choose one of our campsites where you set up your own tent and sleep under the stars. We also have camping tipis and bell tents, which include a bed, a couch, and an air unit to keep you cool. If you have your own RV, you can bring it and hook it up, or you can rent one of ours. We also have camping cabins located right next to the river. You'll find the perfect way to camp at our campground!
Summer is a great time to go camping in the Smokies. Are you ready to plan your next trip? Read more about our campground then book your stay today!