Top 4 Reasons Why Pet Owners Love Our Campground in the Smoky Mountains
May 11, 2023
When taking a vacation to the Great Smoky Mountains, it can be tough for pet owners to leave their furry companion at home. At Greenbrier Campground, we understand that pets are considered part of the family so we are pleased to offer a pet friendly campground to our campers! It is no wonder why our guest with pets love returning to our campground year after year. Learn more about the top 4 reasons why pet owners love our campground in the Smoky Mountains:
1. Convenient Dog Park
It is important for your pet to get a daily amount of exercise, so pet owners love the convenient dog park at the Greenbrier Campground! The great news is that your pet is not required to be on a leash at the dog park so they are free to run and explore. This is a perfect opportunity to let your dog stretch their muscles and burn off some energy. You might even make friends with other pet owners staying at our campground! The dog park contains pet receptacles that make cleaning up easy and plenty of bags are available at pet stations throughout the campground.
2. Access to the River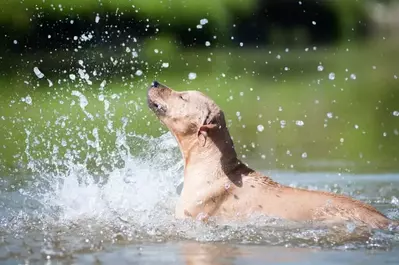 Another reason why pet owners love our campground in the Smoky Mountains is the access to the Little Pigeon River where your dog can go for a swim! The river is a fantastic spot where pets enjoy frolicking in the water and cooling off on a warm summer afternoon. Campers also can spend the day on the river banks fishing for trout with their beloved companion by their side. There is just no better way to spend a vacation with your pet than at the Greenbrier Campground!
3. Excellent Camping Facilities
Both our pet owners and guests without pets love the excellent camping facilities at the Greenbrier Campground. We offer just under 100 full hookup campsites that range from premier river frontage sites to wooded sites, as well as tent sites on the river with water and electric. Our second island offers tenting camping in the grass near all of the campground amenities. There is a fire ring and picnic table at each site so that you can fully enjoy the perfect campground experience!
4. Fantastic Amenities and Activities
There is so much to do at the Greenbrier Campground that you and your pet could spend your entire vacation without leaving our property! Take advantage of our complimentary WiFi access to keep in touch with your family and friends back home and to keep up to date with the latest news. Our recreational activities include such fun activities as badminton, volleyball, bocce ball, horseshoes and corn hole. As if that wasn't enough, head on over to our game room to play the latest video games. If you have young children, they will love spending time on our playground facilities!
For information about any of our pet friendly campground regulations, click here.
Take a look at our campground in the Smoky Mountains today to plan your vacation getaway with your beloved pet! We look forward to seeing you soon at the Greenbrier Campground!