4 Things to Do in the Great Smoky Mountains National Park with Just One Day
April 13, 2018
So here's the problem: You only have one day, but you really want to experience the joys of nature in the Great Smoky Mountains National Park. What should you do with your family? Glad you asked, because we have a few suggestions of things to do in the Great Smoky Mountains National Park for getting the most out of your brief stay. Put on your hiking boots so you can do some serious exploring!
1. Go to Sugarlands Visitor Center
If you're coming from Gatlinburg, this should be your introduction to the park. Once inside the visitor center, you can find everything from restaurant menus and guidebooks, to a film room showing a 20-minute video about the Smoky Mountains. Feel free to ask any of the workers inside for advice on trails and park conditions; they are extremely friendly and helpful. Go outside and you can a do a nice beginner hike to Cataract Falls to get your hiking feet wet so to speak. This trail is excellent for children being that it's just under a mile long, and the reward is Cataract Falls itself, which is 25 feet above the ground below.
Just a short drive down River Road from the Sugarlands Center is one of the more popular trails in the Smoky Mountains: the Laurel Falls Trail and waterfall. Its popularity is based on the fact that the trail is paved and doesn't have a fierce incline. Although it does gain elevation on the way, people of all ages say it's one they can conquer rather easily. The waterfall is a magnificent sight, especially after a hard rainfall, with the 80-foot-high wall of water splashing down at your feet. This would be a fantastic place to get some family pictures to put in the album after returning home.
3. Enjoy a Picnic Lunch
With two hikes under your belt, now would be a good time to unload the cooler and head for a picnic area to feed your hungry family. A good place would be Chimneys Picnic Area, a 68-table rest and recreation site that can be found by picking up Newfound Gap Road after returning to the Sugarlands Visitor Center. Here you can park by your table and dip your toes in the nearby Little Pigeon River.
4. Visit Clingmans Dome
The last part of your day can be spent climbing to the highest point in the state of Tennessee — Clingmans Dome. On a clear day, you can see up to 100 miles. The observation deck is the end point after the half-mile trek up the paved walkway that may be the toughest hike you do that day, even though it doesn't appear that daunting. If the sun is setting, the views are simply breathtaking and should be a perfect capper to your day.
Where to Stay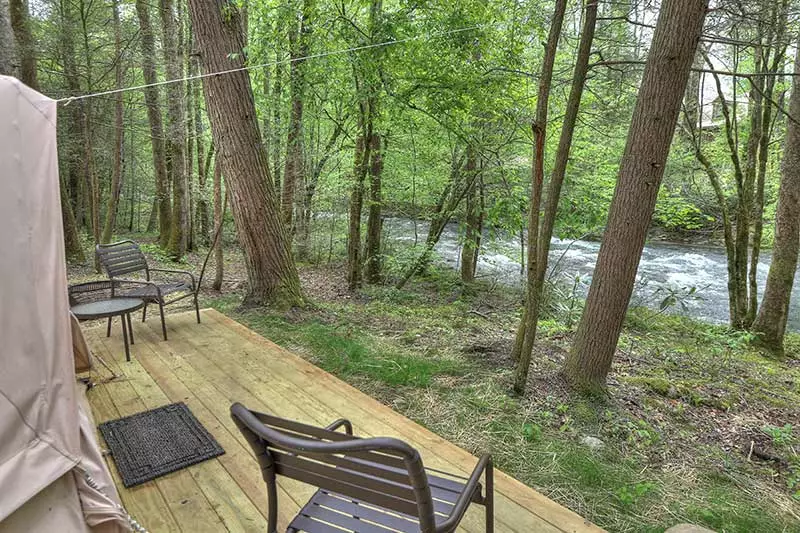 Though it's a little bit of a drive from Clingmans Dome, Greenbrier Campground is a great place to stay after your fun-filled day in the Smoky Mountains. What better way to make the most of your short time in the mountains than by spending a night underneath the stars? At Greenbrier Campground, you can camp the old-fashioned way in a tent, or stay in an RV or camping cabin!
There is so much to see and so many things to do in the Great Smoky Mountains National Park. Reserve your spot at our campground today and get ready for an exciting day in the Smoky Mountains!