Top 5 Gatlinburg Restaurants That You Need to Try During Your Vacation
January 25, 2023
While you'll enjoy the pleasures of grilling out at our Smoky Mountain campground, you also won't want to miss the opportunity to enjoy some of the fabulous restaurants that Gatlinburg has to offer! Whether you're in the mood for a sizzling steak, fresh seafood, or southern barbeque, you'll find just about every type of cuisine just a short drive away from our campground! Here are the top 5 Gatlinburg restaurants that you need to try during your vacation:
1. Alamo Steakhouse
Another one of the top Gatlinburg restaurants that you need to try during your vacation is the Alamo Steakhouse, where each juicy steak is cooked to perfection! Some of the tempting entrees that you'll find on the menu include the Prime Rib, Alamo New York Strip, Filet Mignon, Rio Grande Rib Eye, and the El Presidente Porterhouse! Your seafood-loving friends will be in heaven too with dinners such as the Oak Grilled Salmon and Bacon Wrapped Shrimp Dinner!
2. Bennett's Pit Bar-B-Que
When you've got a craving for some delicious lip-smacking barbeque, head on over to Bennett's Pit Bar-B-Que! This popular locally owned and operated destination is known for its tasty meals that are moist, tender, and packed full of flavor, as well as for its mouth-watering sauce! The extensive menu features an amazing variety of starters, salads, sandwiches, burgers, and platters, as well as sides such as potato salad, BBQ beans, deep-fried corn, and collard greens!!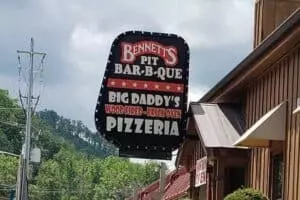 3. The Melting Pot
If you are camping with your sweetheart and looking for a romantic meal on the town, be sure to put the Melting Pot on your itinerary! This charming fondue restaurant is renowned for its incredible 4-course dinners for two that feature a cheese fondue, salad, entree, and chocolate fondue! You can pick from a variety of options for each course, with entree items that include Shrimp, Teriyaki Steak, Herb-crusted Chicken Breast, Garlic Pepper Steak, and more!
4. Cherokee Grill
The Cherokee Grill not only features a mouthwatering selection of steaks and seafood, but an upscale mountain lodge atmosphere to add to the experience! Some of the steak dinner options are the New York Strip, Filet Mignon, Ribeye Steak, and Teriyaki Sirloin, while seafood offerings include Southern Fried Catfish, Char-Grilled Wild Alaska Salmon, and Charbroiled Shrimp! Be sure to save room for dessert as you don't want to miss the Cheesecake or Brownie A La Mode!!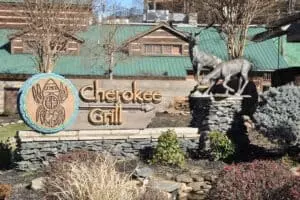 5. Smoky Mountain Trout House
When it comes to the top restaurants in Gatlinburg, be sure to have a meal at the Smoky Mountain Trout House! This iconic restaurant has been a Gatlinburg dining tradition for more than 45 years and the menu features 10 different trout dishes including Ole Smoky Trout, Grilled Rainbow Trout, and Blackened Trout! Of course, you'll want to start your meal with the house specialty – Trout Fritters that feature a special mixture of potatoes, onions, and peppers!
Check out all of the information about our Smoky Mountain campground today to enjoy a fantastic vacation just minutes away from these top Gatlinburg restaurants! We look forward to welcoming you to the Smokies!