Rise and Grind: Top 5 Gatlinburg Coffee Shops
September 12, 2023
When you're on vacation in the Smoky Mountains, you need lots of energy to accomplish all the items on your vacation to-do list. There are so many attractions to visit, trails to hike, and restaurants to try. You'll probably need some caffeine to have enough energy to do it all. However, it's tough to brew a great cup of coffee when you're camping and don't have all your coffee equipment from home. That's why we've put together this list of the best Gatlinburg coffee shops so you know where to go for your caffeine pick-me-up.
1. Coffee & Company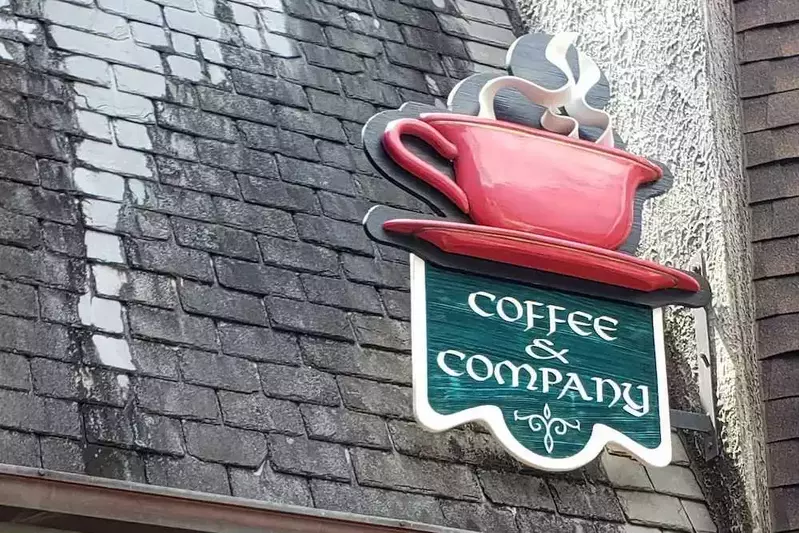 One of the most iconic coffee shops in Gatlinburg is Coffee & Company. This local Gatlinburg coffee shop grinds their beans every day so you always get the freshest cup of coffee possible. Their beans are roasted in nearby Maryville, TN, and can be purchased in a variety of blends and flavors. If you are looking for a tasty cup of coffee, this is a great place to go. You can find Coffee & Company in The Village in downtown Gatlinburg. Their menu consists of a selection of fresh roasted coffee and espresso beverages that can be ordered in an assortment of flavors. Some of their specialty drinks include the Salted Campfire Latte, Lavender White Mocha, and White Mocha Latte. Their lattes are all available hot, iced, or blended.
2. Painted Bear Coffee Co
Another great Gatlinburg coffee shop is Painted Bear Coffee Co. Everything on the menu at this coffee shop is locally made, including both their drinks and bakery treats. You will also find locally handcrafted logo mugs as well as works of art that you can bring home as Smoky Mountain souvenirs. Their menu includes hot and iced traditional favorites like coffee, cappuccinos, and lattes. If you need a really strong coffee, order the Red Eye for some extra energy. This family-owned coffee shop also offers seasonal flavors to match the time of year, plus an assortment of bakery items like croissants, cinnamon rolls, muffins, cake pops, and more. You can find this coffee shop outside of downtown Gatlinburg in the Great Smoky Arts & Crafts Community.
3. Ski Mountain Grind Haus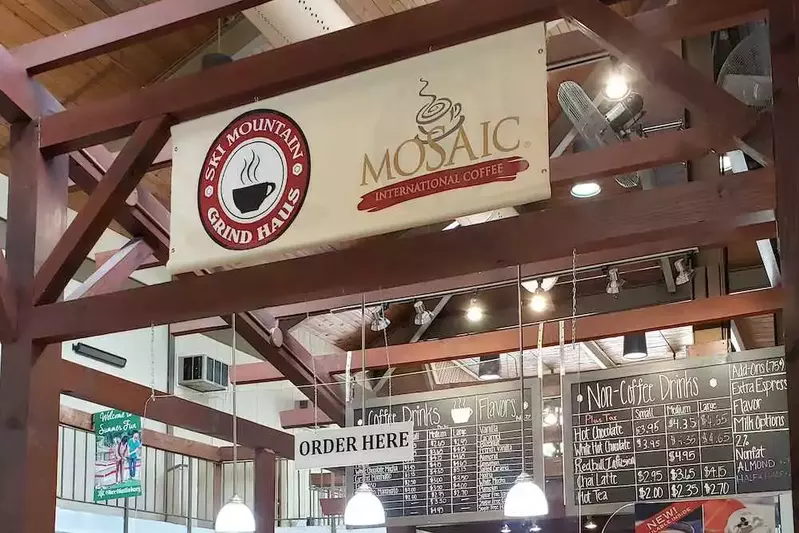 If you are heading up to Ober Mountain, make sure you stop by Ski Mountain Grind Haus first. This Gatlinburg coffee shop is located in the center of the downtown Aerial Tramway Mall where you can catch the Ober Mountain Aerial Tram. Ski Mountain Grind Haus has a full selection of coffee beverages that are made to order. You can choose between a variety of traditional coffee drinks such as an americano, latte, caramel macchiato, frappuccino, or iced coffee. Add extra flavor to your drink with a flavor shot of vanilla, cinnamon, white mocha, hazelnut, peppermint, and more. If you need a strong hit of caffeine, you can order the Red Bull Infusion for an afternoon pick-me-up. Pair your drink with a freshly baked cookie, muffin, danish, or other pastry.
4. Smoky Mountain Coffee Company
You can find a delicious cup of coffee at Smoky Mountain Coffee Company in Calhoun Village in downtown Gatlinburg. This Gatlinburg coffee shop is locally owned and operated and only uses fresh, locally roasted beans. Their menu features traditional coffee drinks like a fresh brewed coffee, latte, mocha, cappuccino, and americano. You can also get iced or blended drinks such as a cold brew, iced latte, blended frappe, and fruit smoothies. Each week Smoky Mountain Coffee Company has a new drink special that you can order. These specialty drinks have included a Honey Lavender Latte, Turtle Mocha Latte, Toasted Marshmallow Latte, Almond Joy Latte, Cinnamon Roll Latte, and Raspberry White Mocha. You never know what tasty special will be on the menu next!
More Places to Go in Gatlinburg, TN
Now you know some of the best Gatlinburg coffee shops to refuel during your vacation. Once you're energized, make sure you check out all the fun things to do in Gatlinburg and the Smoky Mountains. Here are some of the best things to do in downtown Gatlinburg that you should definitely add to your to-do list!