The 5 Top Restaurants Near Our Smoky Mountain Campground
January 11, 2021
When you stay at Greenbrier Campground, you'll be able to experience the Smoky Mountains in all their glory, but you may want to venture out of the campground and taste the local flavor. Fortunately, our campground is in a location that's central to some of Gatlinburg's best casual restaurants, as well as some fine dining options. Here are a few of the best restaurants near our beautiful Smoky Mountain campground:
1. Delauder's BBQ
If you want to leave the campground for a casual family meal, Delauder's BBQ is a great option for you! Just a 5 minute drive from our Smoky Mountain campground, Delauder's BBQ boasts that they have fresh food, including delicious appetizers like cheddar jalapeno bites and fried green beans. They have classic Southern BBQ meals like a pulled pork sandwich with slaw or the "Holy Bologna Sandwich," as well as platters if you and your friends want to share!
2. Trish's Mountain Diner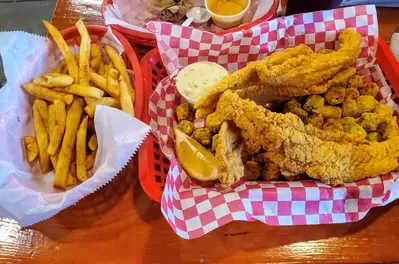 Trish's Mountain Diner offers hearty Southern meals for breakfast, lunch, and dinner! Arrive before 11 am to try one of the famous "Mountaineer Breakfast Meals" or chow down on some classic pancakes or waffles. Trish's Mountain Diner offers a variety of sandwiches for lunch as well as lunch specials that change daily. If you visit for dinner, you can choose between classic Southern entrees like fried catfish or country fried steak and gravy. Trish's Mountain Diner not only offers amazing food, but they describe their atmosphere as "warm and cozy."
3. Crystelle Creek Restaurant & Grill
Crystelle Creek is the perfect place to eat if you're looking for a fine dining experience. They state that they offer the "finest dining experience in Gatlinburg" with their oak wood fired steaks, signature pasta, seafood, and more. The quiet restaurant setting is perfect for romantic dining, or you can enjoy a more lively experience by sitting on the enclosed heated sports porch. The Crystelle Creek Restaurant and Grill is creekside, settled on beautifully landscaped grounds, with a koi pond and a cascading waterfall that falls in front of the large windows.
4. Three Jimmy's Good Time Eatery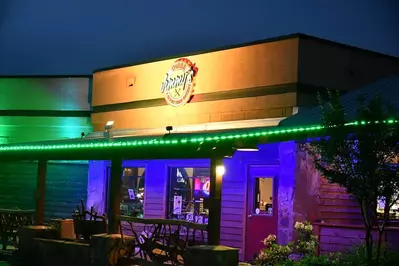 Enjoy a delicious meal with a side of entertainment at Three Jimmy's Good Time Eatery . They have meats smoked in-house, as well as mouth-watering sides like smoked gouda mac and cheese and fresh homemade coleslaw. After you eat, there's plenty to do because Three Jimmy's offers live music, cornhole, karaoke, open mic nights, and more. If you're looking for a night of good food and fun near our Smoky Mountain campground, this is the spot for you!
5. The Greenbrier
The Greenbrier is another one of Gatlinburg's fine dining restaurants. They describe themselves as a restaurant that "balances modern dining and Smoky Mountain tradition." When you visit, you can enjoy dry-aged, hand-cut steaks with sides made from the freshest organic vegetables. The Greenbrier is also home to the Greenbrier Whiskey Society, so you can taste some of the best whiskeys and bourbons after your meal!
All of these restaurants are delicious, but the best part is that they're located near our Smoky Mountain campground! When you want to leave the campfire for a bite to eat, you'll be able to enjoy some of Gatlinburg's best food without driving endlessly. Check out our central location to find other activities near our campground and begin planning the perfect trip!