Top 5 Ways to Enjoy Fall Colors in the Smoky Mountains
October 18, 2023
Fall is known as one of the most beautiful times of the year in the Smoky Mountains. That's because the mountain scenery comes alive with vibrant shades of yellow, orange, and red. If you're planning on visiting the Smokies in the fall, you'll want to make sure you soak up as much of the autumn beauty as possible. Here are the best ways to enjoy fall colors in the Smoky Mountains during your stay.
1. Go on a Scenic Drive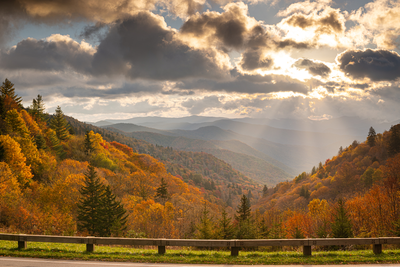 One of the best ways to see fall colors in the Smoky Mountains is by going on a scenic drive. There are quite a few scenic drives in the area that will take you through the national park where you'll be surrounded by brilliant fall foliage. Many of these drives also pass by overlooks with breathtaking mountain views where you can see the surrounding mountains covered in fall colors. Some of the most popular scenic drives that offer the best fall views are Roaring Fork Motor Nature Trail, Newfound Gap Road, and Cades Cove Loop Road.
2. Hike a Trail
Hiking is an excellent way to get up close and personal with the fall colors in the Smoky Mountains. You can go on a walk through the woods where you'll be immersed in the crisp fall air and have various shades of fall foliage all around you. There are plenty of hiking trails near Gatlinburg to choose from, so whether you're a beginner or an experienced hiker, you'll be able to find a trail that you love with picture-perfect scenery.
3. Ride a Scenic Chairlift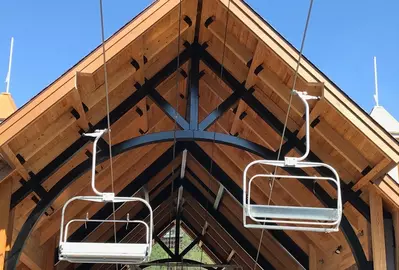 Another great way to enjoy fall colors in the Smoky Mountains is riding a scenic chairlift. A chairlift ride gives you a unique vantage point from which you can take in majestic views of the Smoky Mountains and fall foliage all around. There are a few awesome chairlifts in Gatlinburg and the Smoky Mountains that offer a spectacular bird's eye view of the fall colors, including those found at Anakeesta, Gatlinburg SkyPark, Ober Mountain, and SkyLand Ranch.
4. Have a Picnic
If you want to relax out in nature and fully take in the fall colors in the Smoky Mountains, you should have a picnic in the national park. Pack a lunch of cold cuts, bread, and toppings for an easy, budget-friendly picnic, or grab some takeout from your favorite restaurant. Then, hit the road to find the perfect picnic spot in the Smoky Mountains. Picnic areas can be found at Cades Cove, Metcalf Bottoms, Chimneys, and, of course, Greenbrier. Just make sure you pick up all your trash and dispose of it in a bear-proof trash can.
5. Stay at a Campground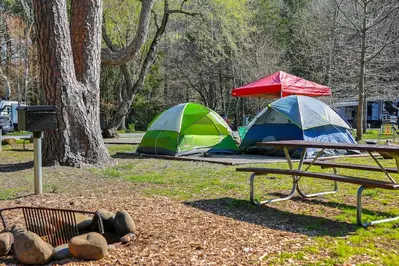 One of the best ways to enjoy fall colors in the Smoky Mountains is camping. Camping lets you enjoy all that nature has to offer in fall, from the cool autumn air to all the vibrant colors of the season. You'll be surrounded by fall foliage throughout your stay, and you can spend all your extra time outdoors to soak it all in. Everything from cooking out to playing games can be done outside when you're camping, giving you as much time as possible to take in the fall scenery of the Smoky Mountains.
Plan Your Stay at Greenbrier Campground This Fall
If you want to camp in the Smoky Mountains this fall to enjoy all that nature has to offer, start planning your stay at the best Smoky Mountain campground. Here at Greenbrier Campground, we have sites for both tent and RV camping as well as camping cabin rentals. However you want to experience camping in the Smoky Mountains, we've got you covered! Reserve your stay today!