6 Easy Hikes in the Smoky Mountains for Families to Explore
November 02, 2021
Want to spend time with your family in the Great Smoky Mountains National Park? There's no better way to explore the area than going hiking! It doesn't matter if you've never been hiking before, because the national park has several trails that are easy for anyone! Check out these 6 easy hikes in the Smoky Mountains for families to explore:
1. Cataract Falls Trail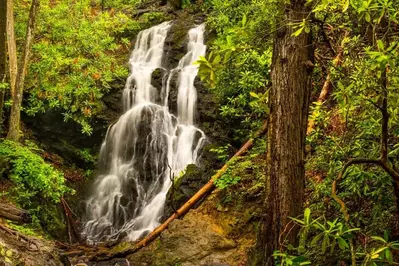 A great trail your family will love is Cataract Falls Trail . This is a great beginner hike because the path is easy to follow, and there are plenty of interesting things to see along the way! You'll pass over a creek where kids will want to watch fish swim by. You might see birds and squirrels as you walk through the forest. Of course, you probably will spot all kinds of trees right off the path, including the ones with unique shapes and holes of various sizes! At the end of the trail, you'll get to see Cataract Falls! This waterfall is beautiful any time of the year, but it is especially impressive after a decent amount of rain!
2. Sugarland Valley Nature Trail
If you have small children who can't hike a longer trail, Sugarland Valley Nature Trail is the perfect way to get out in the park! The path of the trail is paved, making it easy to navigate with strollers. As you walk through the woods, you'll hear water rushing over the rocks in the river nearby. You might also spot small wildlife along this trail.
3. Porters Creek Trail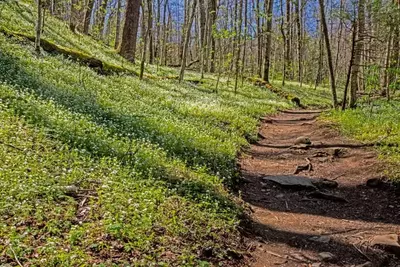 Porters Creek Trail is one of the easy hikes in the Smoky Mountains your family will want to explore! With a roundtrip length of 7 miles, you could spend all day in the national park hiking this trail! Along your hike, you will see an old cemetery, historic home sites, and all kinds of small animals. Plus, you'll spot Fern Branch Falls along your hike!
4. Elkmont Nature Trail
Elkmont Nature Trail is another easy hike in the Smoky Mountains you'll want to explore with your family! It is only 0.8 of a mile long, and the trail is primarily used for bird watching and seeing wildflowers. Kids of all ages will have fun crossing streams and running through the woods along the trail!
5. Little River Trail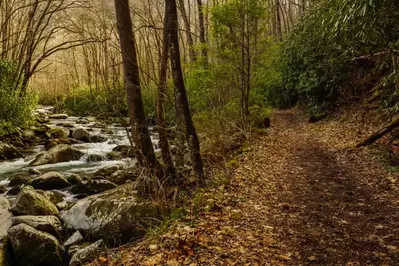 Little River Trail is slightly longer than some of the other trails we have mentioned at 5 miles roundtrip. This path runs parallel to the river of the same name, and it follows an old gravel railroad bed. You'll pass by several old cottages, and in the spring and summer, there are several wildflowers in the area. About 2 miles in, you'll see Huskey Branch Falls, a 20-foot cascade in the river!
6. Gatlinburg Trail
Another one of the easy hikes in the Smoky Mountains you'll want to go on is Gatlinburg Trail . This hike is 3.8 miles roundtrip, and the path is relatively flat. You'll pass over the west prong of the Little Pigeon River, and you'll see all kinds of cool features along the way, including remains of old homesteads. Gatlinburg Trail is also the only pet friendly hiking trail in the park, so you might see some furry friends along the way!
You'll love exploring the national park with these easy hikes in the Smoky Mountains! Want to stay close to nature by going camping? Learn more about our Smoky Mountain campground, then reserve your spot for your next trip!