Top 4 Benefits of Making Your Smoky Mountain Campsite Reservations Today
May 15, 2018
If you are planning a summer vacation to Greenbrier Campground, this is the perfect time to make your campground reservations! There are many advantages to booking your campsite early so that you can plan the rest of your vacation to the Great Smoky Mountains! Here are the top 4 benefits of making your Smoky Mountain campsite reservations today:
1. Best Availability
The top benefit to making your reservation at the Greenbrier Campground today is that you will have the best availability of campsites for your vacation! Whether you want to want to enjoy tent camping in our center grass area or riverside tent camping on our second island, you can pick your most desired location by booking early! The handy map of our campground in the Smoky Mountains identifies the specific location of all of our campsites so that you can have an easy time making your decision. Remember that all campsites are reserved on a first-come, first-serve basis, so we recommend picking your favorite site as soon as possible!
2. Keeps Your Group Together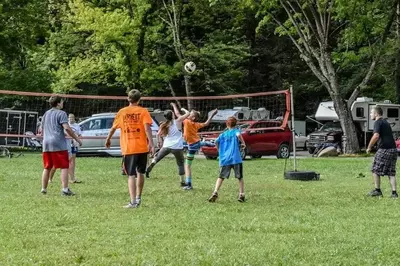 If you are camping as part of a scouts trip, family reunion or other group outing, it is especially beneficial to make your Smoky Mountain campsite reservations today! This allows you to keep your group together in one area of our campground. Some folks prefer to be close to our recreation area, where we offer volleyball, badminton, bocce ball, corn hole and horseshoes. Meanwhile, other groups of campers like to be next to the river where they can enjoy the private beach and swimming in our famous Flint Rock swimming hole! Check out all of the group information at the Greenbrier Campground to find out everything you need to know about our discounted group rates and campground options.
3. Relieves Stress from Trip Planning
While a vacation is certainly a wonderful and enjoyable experience, it can sometimes be stressful trying to plan your trip! When you make your reservation at the Greenbrier Campground today, you can relax knowing that you have secured your campsite and can plan the other fun parts of your vacation. This means that you can research all of the fantastic hikes through the Great Smoky Mountains National Park, find out information about attractions in Gatlinburg and check out all of the awesome amenities at our campground in the Smokies!
4. Allows You to Make Travel Arrangements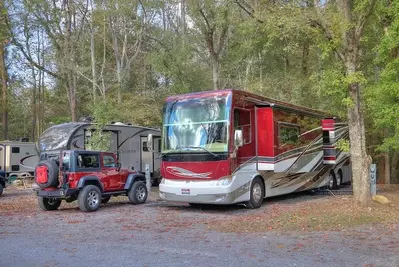 When you make your campground reservations months or weeks in advance, it allows you to make your other travel arrangements necessary to reach the Smoky Mountains! If you are planning to fly into the region, you can book your flights early to take advantage of lower fares and greater flexibility. For those with a group, you may need to charter a bus or determine how many cars are necessary to transport everyone to the Greenbrier Campground!
Check out all of the information about our campground in the Smokies and make your Smoky Mountain campsite reservations today! We look forward to seeing you soon at the Greenbrier Campground!