3 Groups Who Will Love a Weekend at Our Great Smoky Mountain Campground
December 29, 2016
Camping in the Smokies is a wonderful experience for people of all ages and interests. From little kids who are getting their first opportunity to sleep under the stars to the most experienced campers, everyone is guaranteed to have an unforgettable weekend at our Great Smoky Mountain campground!
1. Sports Team
If you're the coach of a school football, basketball or soccer team, or you're involved with any of the teams in your area, spending a weekend at our Great Smoky Mountain campground can be a great team-building retreat. The team is used to working together on the field or in the gym, but learning how to pop tents, build fires and cook meals for the group is an excellent way to build communication skills.
Our Smoky Mountain tent camping area is where you'll want to reserve a few spots for a team retreat. Our primitive camping area is surrounded by water, and there are even a few waterfront spots for a little bit of added luxury! Your team will feel like they're "roughing it," but there are amenities such as charcoal grills and a bathhouse nearby.
2. Bachelor or Bachelorette Party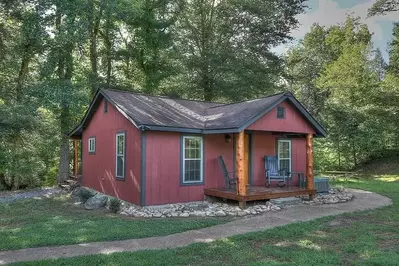 Another group that will have a blast at our campground is a bachelor or bachelorette party! If you're looking for a special way to celebrate with friends before the biggest day of your life, a few nights at the Flint Rock Cabin is the way to go. This one bedroom cabin will comfortably sleep up to 6 people, and it includes a private king suite for the bride or groom-to-be. You'll enjoy complimentary wireless internet, a cozy picnic pavilion and a private deck with access to a relaxing swimming hole! This will be a weekend that the whole group will remember for a lifetime!
The Flint Rock Cabin is also only 6 miles from downtown Gatlinburg TN, which means that you and the group of guys or gals can spend the day on the town, shopping, eating and seeing the sights, and then head back to the cabin for a fun evening in the game room or swimming hole! You'll have the best of both worlds rolled into one mountain retreat!
3. Friends with RVs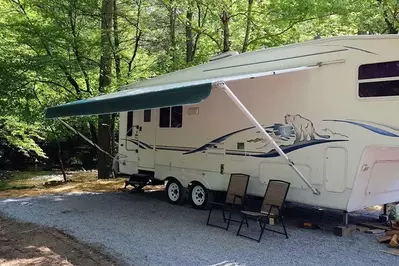 If you have an RV and you happen to have other friends around the country with RVs as well, our Great Smoky Mountain campground is a great place to meet up and spend a few days away! We have over 100 RV hookup sites, all of which are unique and different. We have small sites for pop-up campers and larger sites for expansive RVs. We have riverfront spots for beautiful water views, as well as wooded spots which offer a more private and quiet setting. And every site includes water, sewer, electric and water! Spending a few days in your RV with your friends is truly the best way to enjoy nature in style!
Now that you know 3 unique ways to enjoy our Great Smoky Mountain Campground, decide what sort of vacation you want to take, and start preparing for a few unforgettable days in the mountains!