4 of the Best Winter Hikes in the Smokies You Have to Experience
November 21, 2017
Hiking in the Great Smoky Mountains is always a magical experience, but few things are more breathtaking than the views you get when you hike the mountains during the winter. Here are 4 of the best winter hikes in the Smokies that you've got to try.
1. Alum Cave Trail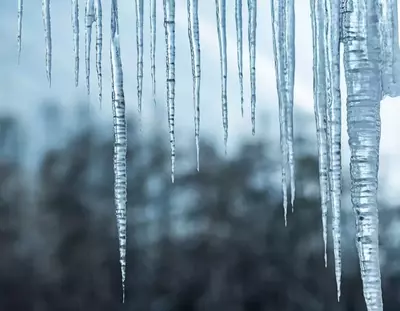 This 5-mile round-trip hike starts by crossing Walker Camp Prong and Alum Cave Creek on log bridges. Hikers then venture through an old-growth forest and through the narrow tunnel of Arch Rock, which is a highlight of the Alum Cave Trail . In cold weather, visitors can catch glances of icicle formations throughout the hike. Another beautiful sight on the hike is the Alum Cave Bluffs, which are about 2.3 miles from the trailhead. In the winter, the bluffs have icicles hanging from the ledges that makes for a beautiful picture.
2. Laurel Falls
Laurel Falls is an amazing winter hike for those who want to enjoy beautiful scenery at a leisurely pace. The paved trail is only 1.3 miles. It is one of the most popular destinations in the Great Smoky Mountains National Park, and it's not hard to understand why. At the end of the trail, hikers are rewarded with views of a gorgeous waterfall. If you're lucky, it will be cold enough that some of the water will have frozen. Make sure to bring your camera to capture this beautiful scene!
3. Rainbow Falls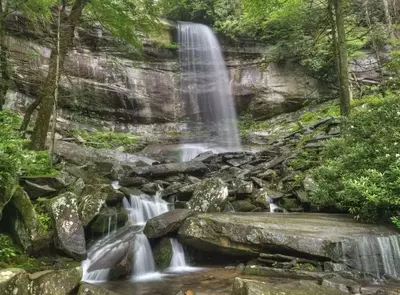 Rainbow Falls is perfect for those looking for a little bit of a challenge. The roundtrip distance of 5.4 miles and the rocky terrain makes this a more difficult hike. However, if you're up for the challenge, hiking Rainbow Falls is definitely worth it. During the winter, sometimes an impressive ice formation builds around the falls. It's an incredible sight you won't want to miss. Just be careful not to slip in the snow!
4. Porters Creek
This trail is possibly the best hike during wintertime if you love frozen views. Porters Creek is about 4 miles roundtrip if you hike to Fern Branch Falls and back. Fern Branch Falls is a beautiful sight during the winter months when it reaches its frozen state. This hike is ideal in the winter because of its low elevation, whereas hikes with higher elevation are more difficult to accomplish in the snow. Visitors to the area can also appreciate some historic sites along the trail and get a glimpse into history of the Smoky Mountain area.
If you're looking forward to the best winter hikes in the Smokies, you'll love these four trails. All of them offer spectacular winter views, and if you're lucky, you'll have the opportunity to see the picture-perfect scene of snow-covered mountains. Check out all our cozy cabins available at Greenbrier Campground that will be perfect to return to after a chilly day of hiking in the Smoky Mountains.