Top 4 Reasons to Bring Your Dog To Our Campground in the Smoky Mountains
March 10, 2020
The Greenbrier Campground is a pet friendly campground, and we would be delighted to welcome you and your furry companion to our property! You don't have to leave your dog at home with a pet sitter or worry about them being lonely in a kennel. We know your pet will enjoy our campground as much as you, so feel free to bring them along for the fun! Here are the top 4 reasons to bring your dog to our campground in the Smoky Mountains:
1. Dogs Can Explore the River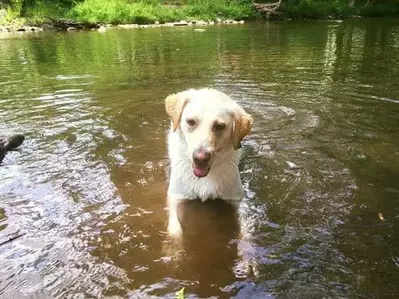 One of the unique aspects of our campground is our property is along the Little Pigeon River where you can relax or enjoy a swim on a warm summer afternoon. You can also bring your dog along to explore and splash around in the river by your side! Most dogs love playing in the river, so take this opportunity to visit this very special part of our campground in the Smoky Mountains! Just keep in mind all pets must be on a leash that is a maximum of 6 feet in length.
2. Convenient Dog Walking Service
Our campground has a convenient pet walking service if you have to leave your pet in your RV for a short period of time! When you arrive at the campground, simply stop by the office for more information about this service. This makes it easy for you to enjoy some of the local activities where it would be difficult to bring your pet, such as white water rafting or ziplining. Pets cannot be left at a tent or RV site unattended, but you can leave your pet in the RV as long as it does not disturb other guests with excessive barking. Be sure to check out all of our pet rules and regulations when planning your vacation!
3. Close to Pet Friendly Activities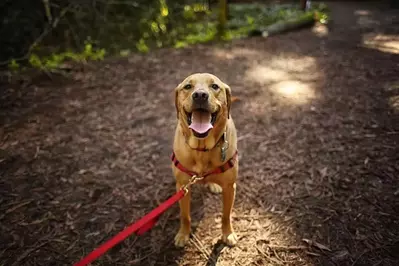 Our campground in the Smoky Mountains is just minutes away from some fun pet friendly activities where your dog can get some exercise! If you want to explore Great Smoky Mountains National Park, check out the Gatlinburg Trail that runs from the outskirts of Gatlinburg to the Sugarlands Visitor Center. This is just one of two trails within the national park where visitors can walk dogs. The 1.9 mile trail is relatively flat and offers beautiful river views, as well as the opportunity to view the foundations and chimneys of several old homesites.
4. Dedicated Dog Walking Areas
We are pleased to offer dedicated dog walking areas so your pet can always stretch their legs! The map of our campground in the Smoky Mountains shows the location of these areas as well as the specific location of all of our campsites. We also have a dog park where you can let your dog run free without a leash! There are pet receptacles conveniently located throughout the campground and at the dog park so you can easily clean up after your pet.
Now since you know why you should bring your dog to the Greenbrier Campground, check out all the details about our pet friendly campground in the Smoky Mountains today! We look forward to seeing you and your pet soon!