Top 4 Reasons Why You Need to Experience Teepee Camping in Tennessee
February 25, 2021
If you are looking for a unique camping experience during your vacation to the Smokies, there is no better place to stay than our teepee village! We offer several beautiful teepees that are tucked away from the rest of our campground and feature all the amenities necessary for a fun and relaxing getaway! Here are the top 4 reasons why you need to experience teepee camping in Tennessee:
1. Traditional Camping With Modern Amenities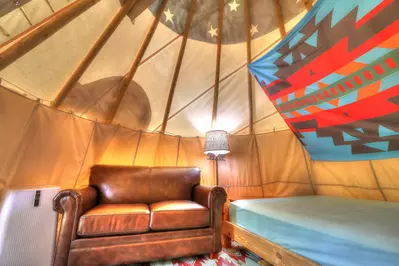 The teepee village at our campground offers an awesome combination of traditional camping mixed with modern amenities, making it a great destination for those folks who prefer a few luxuries over tent camping! Each teepee features interior and exterior lighting so you don't have to worry about batteries for your camping lantern, as well as A/C and heat that will keep you comfortable throughout your vacation. If you want to enjoy a traditional cookout and campfire under the stars, just step outside of the teepee to take advantage of the outdoor chairs, fire pit, and picnic table!
2. Comfortable Sleeping Arrangements
Another reason why you need to visit our campground to experience teepee camping in Tennessee is because of the comfortable sleeping arrangements! Each teepee can accommodate a couple or small family as it features a queen pillowtop bed, leather loveseat that converts to a twin-size bed, and an additional cot. As you can see, this is much more comfortable than laying in a sleeping bag in a tent! You can always count on a solid night of sleep in our teepees and be fully rested for your daytime activities!
3. Full Access to Campground Amenities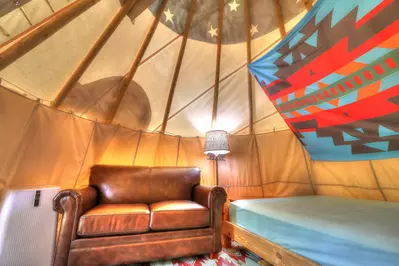 When you stay in our teepee village, you have full access to all of our wonderful campground amenities! There is so much to do at our campground that you could spend your entire vacation without leaving our property, so plan to spend at least one day simply enjoying our facilities! We are pleased to offer recreational equipment so you can play volleyball, badminton, corn hole, and other fun games. If you are staying with us during the warm months of summer, go for a refreshing swim in our famous Flint Rock swimming hole! Our other campground amenities include a playground, game room, bath house, laundry facility, and free WiFi.
4. Excellent Rates
You will be excited to know that our teepees are incredibly affordable, making them a tremendous value for couples and families looking to upgrade their camping experience! Take a look at our campground rates for the latest prices, and we are sure you will be pleasantly surprised at the low rates! Just keep in mind that our teepees require a minimum stay of at least 2 nights, but most folks find they want to stay much longer than that!
Now since you know why you need to visit our campground to experience teepee camping in Tennessee, check out all of the information about our teepee village today to make your reservation! We look forward to welcoming you to our campground in the Smoky Mountains!