4 Reasons to Book Our Flint Rock Cabin in the Smoky Mountains
April 05, 2017
If you are looking to enjoy the great outdoors among the beautiful backdrop of the Smokies, our cozy Flint Rock Cabin is perfect for your vacation! This lovely cabin is conveniently located just a short drive from downtown Gatlinburg and has all the amenities you need for a wonderful getaway! Check out these 4 top reasons to book our Flint Rock cabin in the Smoky Mountains:
1. Kitchen Amenities
Our Flint Rock cabin contains excellent kitchen amenities such as refrigerators and microwaves for easy meal preparation and storage! There is no need to worry about keeping your beverages chilled in a cooler when you can simply reach for a cold drink from your refrigerator. Make dinner in the cabin, barbeque on the grill or enjoy a meal in Gatlinburg, then store any leftovers for a snack later on your trip. The kitchen amenities in this cabin are sure to come in handy throughout your vacation!
2. Private Decks
If you want to enjoy the gorgeous surroundings of the Great Smoky Mountains, just step out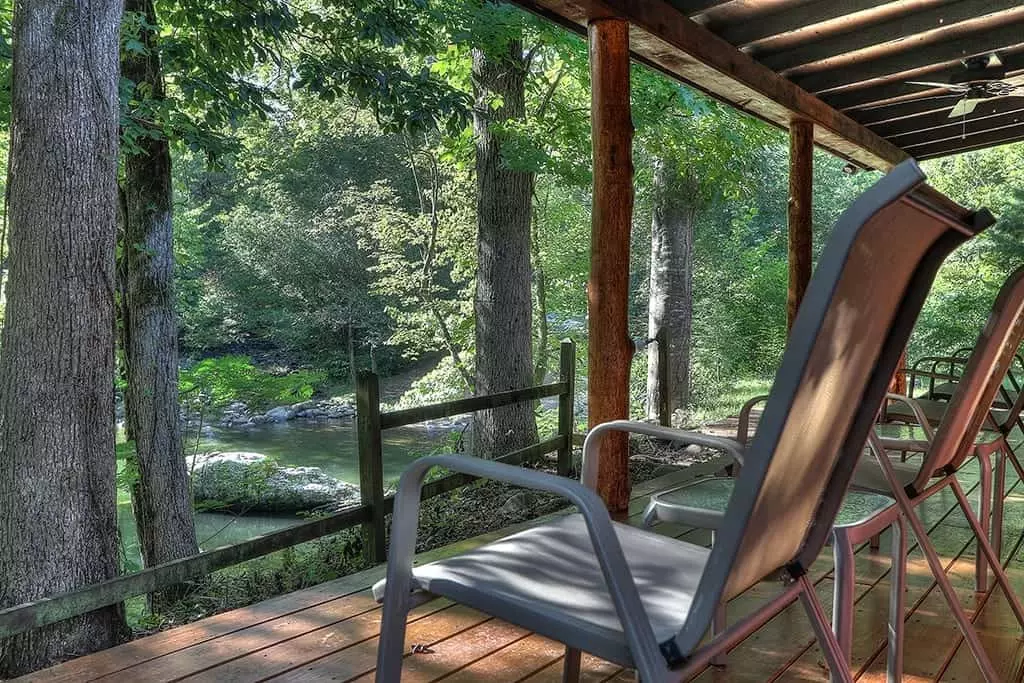 onto your private deck! This is a wonderful place to relax and appreciate the sights, smells and sounds of nature. Start your morning with a cup of coffee while you listen to the delicate sounds of songbirds or step outside under the stars to witness the night sky as never seen before. Read a book while listening to the peaceful flow of the Little Pigeon River or take an afternoon nap in the shade. Regardless how you spend your day, you will love the private deck of our Flint Rock cabin in the Smoky Mountains!
3. Modern Features
Our Flint Rock cabin has a great variety of modern features designed for a delightful "glamping" experience! Relax in a temperature controlled environment without exposure to the elements and turn on the television to catch the latest big game. Get a wonderful night of sleep on a comfortable mattress after a day of hiking and exploring the region. The cabin even has a washer and dryer where you can dry off your swimsuit after an afternoon of playing in the Flint Rock Swimming Hole! Of course, the cabin also has a private bathroom with shower and toilet facilities for your convenience.
All guests of our Flint Rock cabin in the Smoky Mountains enjoy access to the awesome amenities at Greenbrier Campground! This means that you can take advantage of our fantastic recreational opportunities such as volleyball, badminton, corn hole and horseshoes. We also have a game room and playground for the kids in your family. Want to stay connected during your vacation? We offer free Wifi access throughout your trip so that you can keep in touch with the folks back home and let them know how much fun you are having!
Check out our Flint Rock cabin in the Smoky Mountains to start planning your vacation today! We look forward to your visit and hope to see you soon at Greenbrier Campground!