Top 4 Places to Go Swimming in the Smokies
May 13, 2021
One of the great things about a summer camping trip to the Smoky Mountains is all of the fun swimming options near our campground! After all, there is nothing like cooling off and splashing around with your friends in the sunshine on a warm summer afternoon! When you are ready to take a dip, grab your bathing suit and get ready to enjoy some of the best swimming options around! Here are the top 4 places to go swimming in the Smokies
1. Flint Rock Swimming Hole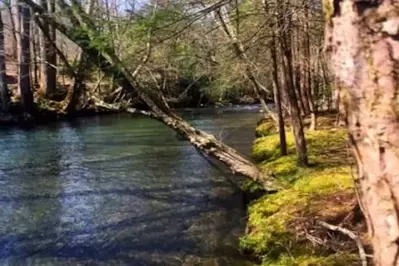 One of the top places to go swimming in the Smokies is at the Flint Rock swimming hole, which you will find right on our campground property! The Little Pigeon River runs around our campground and offers this fun swimming hole, as well as a private beach area where you can relax in the sun! If you are planning on spending a few hours hiking and sightseeing in the Smoky Mountains, you can look forward to returning to our campground for a refreshing dip! While you are here, be sure to take advantage of our other campground amenities, including recreational equipment, a playground, a pavilion and more!
2. Greenbrier Swimming Holes
If you want to try some more swimming holes in the area, just head over to the Greenbrier entrance to the Great Smoky Mountains National Park ! To access this entrance, simply turn right out of our campground and then right again on Route 321 where you will see Greenbrier Road less than a half mile on the left hand side. This road follows the Little Pigeon River for about 7 miles into the park and features several pull-offs where you can park and access plenty of places to swim!
3. Dollywood's Splash Country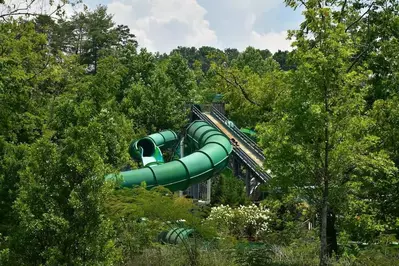 Make a whole day out of swimming in the Smokies by visiting Dollywood's Splash Country , one of the largest water parks in the nation! This 35 acre park features a wide variety of exciting attractions for all ages, including speed slides, family slides, a wave pool and a relaxing lazy river! Thrillseekers will want to check out Fire Tower Falls, a pair of 70 foot tall freefall slides that provide an exhilarating journey into a major splash finale! Some of the other fun slides include the Big Bear Plunge, Mountain Scream, Raging River Rapids and the TailSpin Racer.
If you prefer to swim indoors where you don't have to worry about a sunburn, just head over to the Gatlinburg Community Center ! This 52,000 square foot facility is open to the public and features an indoor swimming pool that is open daily all year long. There is just a nominal fee of a few dollars to use the pool, making it one of the best bargains for swimming in the Smokies! Just keep in mind that the pool closes 30 minutes before the Community Center and that public swim time is subject to swim lessons and swim team schedules.
Now that you know all of the great places to go swimming in the Smokies, check out all of the information about our Smoky Mountain campground today to plan your summer camping trip! We look forward to seeing you soon!