4 Places to Go Holiday Shopping in Gatlinburg, TN
November 16, 2023
The holiday season is here, and that means it's time to shop for gifts for family and friends. A thoughtful holiday gift is a great way to show your loved ones how much they mean to you. There are so many incredible places to go holiday shopping in Gatlinburg to find thoughtful, unique gifts for everyone on your list! Here are some great shops to check out this season.
1. Santa's Claus-et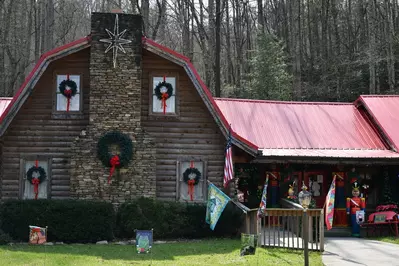 If you're looking for some holiday decor or Christmas-themed gifts, you should definitely stop by Santa's Claus-et. This is the largest Christmas store for holiday shopping in Gatlinburg and has everything you need for the holidays. You can purchase personalized ornaments, lights, Christmas trees, snow globes, and other holiday decorations. If you're shopping for a child, check out their old fashioned toys, games, and children's books. Holiday food items like jams, dips, soups, cocoa, and others can also be found at this store with samples to try. You may even be able to get a Christmas photo taken with Santa if he's paying the shop a visit!
One of the best places to do some holiday shopping in Gatlinburg is the Great Smoky Arts & Crafts Community. This is the country's largest independent organization of artisans. You'll find a wide variety of handcrafted items that are made by local artisans in the community. More than 100 craftsmen and artists can be found along this 8 mile loop road. You'll discover all sorts of unique gifts to bring back home to loved ones, such as hand-blown glass, candles, baskets, pottery, jewelry, paintings, quilts, soaps, wood carvings, leather products, and much more!
3. The Village in Gatlinburg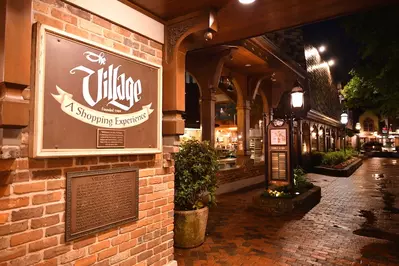 The Village is a great place to go shopping in Gatlinburg. Located in downtown just past stoplight #6 on the main Parkway, The Village has a quaint, European-themed atmosphere with 27 unique shops to explore. You can find shops that specialize in candles, toys, footwear, jewelry, socks, soaps, art, music, food items, and much more. You'll have a great time browsing through these stores as you look for a personal gift for that special someone. If you need to refuel during your shopping spree, you can also find a coffee shop and donut shop to take a break and re-energize before continuing your holiday shopping.
4. Nantahala Outdoor Center
Do you have an outdoor enthusiast on your gift list? You should stop by Nantahala Outdoor Center, otherwise known as NOC, while you're shopping in Gatlinburg for the holidays. You'll easily be able to find the perfect gift for your adventurous friends and family members. This store is located at the edge of downtown Gatlinburg right next to the entrance to the Great Smoky Mountains National Park. NOC carries all sorts of gear for every type of outdoor activity. You can find hiking boots, hammocks, sleeping bags, kayaks, life vests, athletic apparel, and anything else your outdoorsy loved ones could need.
More Things to Do in Gatlinburg This Winter
These are some of the best places to go shopping in Gatlinburg for holiday decor and unique gifts. Are you looking for fun activities to experience besides shopping? Check out these can't-miss things to do in Gatlinburg in winter so you won't miss out on a thing while you're in town this holiday season!