Your Guide to the 4 Different Camping Rentals at Our Smoky Mountain Campground
August 22, 2023
You don't have to have your own equipment to go camping in the Smoky Mountains. If you want to go camping but don't have your own tent or RV, don't worry! Here at Greenbrier Campground, we offer a few different types of camping rentals you can choose from to enjoy the camping experience without buying your own equipment. Here are the four types of camping rentals we offer at our Smoky Mountain campground.
1. Camping Cabin Rentals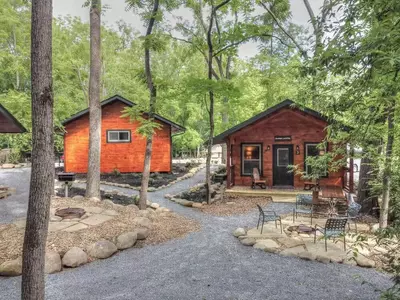 Camping doesn't have to be in a tent or a camper. If you want to enjoy the camping experience but stay within solid walls, a camping cabin is the ideal camping rental for you! Our camping cabins are located within our Smoky Mountain campground and are perfect for couples, small families, or a few friends. Camping cabins have a few more luxuries than a tent would offer. Each camping cabin has AC/heat, beds, a television, and a kitchenette. These camping cabins can sleep three to six guests comfortably, depending on which one you book. Some have bathrooms while others are situated close to the luxury bath house. None of our camping rentals come with towels or bedding, so you'll need to bring your own. These camping cabins each have access to a fire ring, picnic table, and charcoal grill. They are also pet friendly for a small fee.
2. Deluxe Camping Cabin Rentals
Our Smoky Mountain campground also offers deluxe camping cabins. These camping rentals are great for couples or families. Our deluxe camping cabins are larger than our regular camping cabins and come with more luxuries. Each one has a queen bedroom, a bunk room or small loft, fully equipped kitchen, bathroom with tub/shower, living room, television, and a wrap-around deck. All our deluxe camping cabins have an outdoor picnic table, fire pit, charcoal grill, and outdoor furniture. You only need to bring your own bedding, towels, and other personal items. These camping rentals are situated next to the river, so you can sit out on the private deck overlooking the river to unwind. You're welcome to bring your pet with you to stay in a deluxe camping cabin, too, if you pay the pet fee.
3. Bell Tent Rentals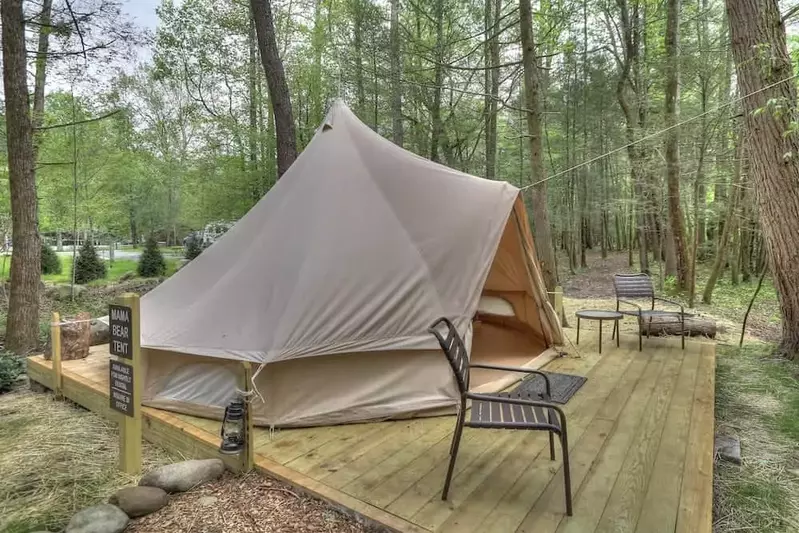 If you want to sleep in a tent but don't want to use your own equipment, our bell tents are a great option! You can experience all the fun of tent camping in a more luxurious way. These camping rentals are set up on a raised platform and come with two full-size pillow top mattresses, so you don't need to worry about sleeping on the ground. Our bell tents also come with a fan, table, and interior and exterior lighting. Everything will be ready for you before you arrive, so you won't need to set up when you get here. You just need to supply your own sheets, blankets, pillows, towels, and personal items. Our bell tents do not have air conditioning or heat, and they can not support electricity for space heaters or A/C units, so you will still get the complete outdoor tent camping experience. Just be aware that pets are not allowed in our bell tents.
4. RV Rentals
If you would like to stay in an RV but don't have your own, we've got you covered! Our Smoky Mountain campground has RV rentals available for couples, families, and small groups. Each of these camping rentals has everything you need for a successful camping trip, including beds, a full kitchen, full bath, television, and more. Outside you will have access to a picnic table and fire ring. All you need to supply is your own bedding and towels. You will get to experience what it's like to camp in an RV without having to buy your own or deal with transporting it to the campground. When you stay in one of our RV rentals, you'll have access to all our campground amenities, including our playground, sports equipment, game room, private swimming area and beach, complimentary WiFi, and more.
Book Your Stay at One of Our Camping Rentals
Are you interested in staying in one of the camping rentals available at our Smoky Mountain campground? Start planning your Smoky Mountain vacation today and reserve your camping rental at Greenbrier Campground for the ultimate camping experience!