4 Reasons Our Gatlinburg Camping Cabin Is Perfect for Families
October 16, 2023
When some people think of Smoky Mountain camping, they think of setting up a tent and sleeping in the great outdoors. While this is an option, it is not the only way to enjoy a stay at our campground. We also have a cabin on site where your family can enjoy the Smoky Mountains without having to give up the luxuries you have at home. Here are 4 reasons our Gatlinburg camping cabin is perfect for families:
1. Heating and Air Conditioning
If you plan on camping with small children, you want to make sure they don't get too hot or too cold. When you stay in our cabin, you will have the luxury of having both heating and air conditioning. This is good for families because you can control the thermostat to where everyone is comfortable. Just as a reminder, the camping cabin does not come with linens, pillows, or blankets, so you will need to pack those things when making the trip to see us!
2. Pet Friendly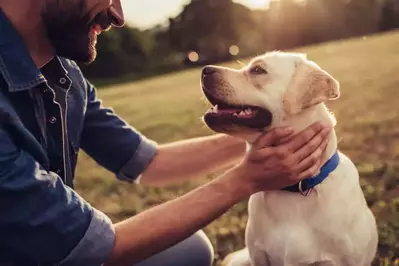 You can't call it a true family vacation if you don't bring the dog with you on the trip. Luckily for you, our Gatlinburg camping cabin is pet friendly! Your kids will love having the dog to cuddle up next to at night just like they do at home. As an added bonus, you won't have to worry about the time and money associated with finding a house sitter to keep an eye on your furry friend. During the day, the dog can join in on the family fun by playing at our beach area and in the river!
3. Fully Equipped Kitchen
We know how often kids need meals and snacks throughout the day, especially when they are out running around. With the fully equipped kitchen in the cabin, it is easy to prepare exactly what your children are craving. This feature can also help parents save money on their vacation. Since you have a kitchen with all kinds of cooking utensils, it is much easier to cook in versus eating out around town. There are grocery stores on your way to the campground where you can pick up supplies to cook all types of delicious meals!
4. Close to Campground Amenities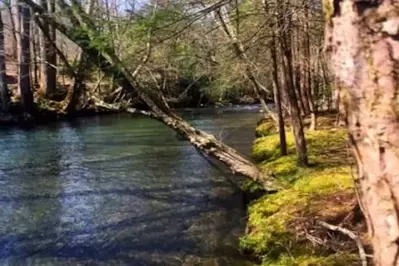 As previously mentioned, our campground has an amazing private swimming area. When you stay in our camping cabin, you will be just steps away from this fantastic amenity. In fact, the deck on the back of the cabin overlooks the water! With your cabin being so close to the river, it is easy to keep an eye on the kids who are enjoying splashing around in the swimming area! The cabin also comes with a picnic table, fire ring, and charcoal grill, making it easy to cook dinner after a busy day of playing outside.
More Camping Cabins
While families love our camping cabin we've mentioned above, that's not the only comfortable camping cabin at Greenbrier Campground! We also have 4 additional camping cabins with beautiful surroundings. They sleep 4-6 guests comfortably and have all the amenities you need for a relaxing stay. Within 100 yards of the cabins, you'll have a playground, a bounce house, a dog run, and river access. We also have a great selection of deluxe camping cabins that each have a queen bedroom, a bunk room with 4 twins or small loft for 2 small children, a fully equipped kitchen, a bathroom, a living room, cable TV, WiFi, and a wrap-around deck overlooking the river. You can't go wrong with any of our camping cabins you choose to stay in!
Now that you know why our Gatlinburg camping cabin is perfect for families, you can start planning your next Smoky Mountain camping trip! Reserve your spot today to come see us! We look forward to welcoming you to the Smokies!