4 Reasons to Stay at Our Campground Near Gatlinburg TN for Thanksgiving
November 17, 2021
There is a lot to be thankful for this holiday season, and what better way to celebrate all your blessings than by getting together with family while enjoying the beautiful Smoky Mountains. Taking some time to get out in nature and enjoy the company of your friends and family has a way of showing you what's really important. Here are 4 reasons to stay at our campground near Gatlinburg TN for Thanksgiving:
1. Room for the Whole Family
Whether you come from a big or small family, we have plenty of room for everyone! With 120 full hookup RV sites, space for up to 30 tents, camping cabins and even a few tipis, we have options for everyone. Bring all the grandparents, cousins and even pets! That's right, we offer pet-friendly rentals as well. Don't worry about leaving your furry family members with a sitter or stress about boarding them. Bring the pets along and let them get in on the Thanksgiving festivities!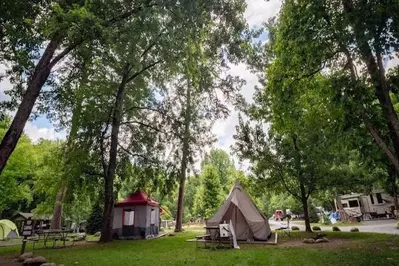 With various rental options for everyone, every family member will be able to enjoy their time in the Smokies, regardless of if they want to rough it or go glamping. Our camping cabins and RV sites are great for older family members who may not be interested in tent camping. If you don't have an RV, you can rent one.
2. Near Holiday Attractions
Our campground near Gatlinburg TN provides the perfect location to enjoy the holidays in the Smokies. Being just a short drive from tons of area attractions, you'll have lots of options for fun family activities. Spend a day at Dollywood in Pigeon Forge and enjoy their Christmas festival or check out all the holiday lights throughout downtown Gatlinburg. Winterfest arrives in the Smokies in November, so you won't be too early to get into the holiday spirit.
3. Enjoy a Unique Thanksgiving Dinner
Just because you're spending the holiday in the mountains doesn't mean you can't enjoy a delicious Thanksgiving meal with the family. Whether you want to keep it traditional with turkey and dressing or you want to try something new this year, we provide you with the resources to do it.
We provide both charcoal and propane grills, as well as a full kitchenette for those staying in our camping cabins. You can store any perishable items in the refrigerator or freezer within the cabin, then use our grills when you're ready to cook. If you forgot something, don't worry, we have a camp store, as well as a close location to Gatlinburg grocery stores. Feel free to bring your own equipment and hook it up at your RV or tent sites as well.
4. Spend Some Time in Nature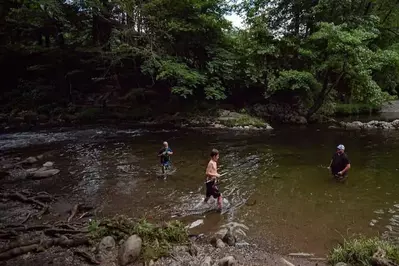 With the last colors of the fall leaves drawing to a close, Thanksgiving is a great time to adventure to the Smoky Mountains. The mountains are beautiful year round, but especially as the seasons begin to change. You will love the relaxation that comes with spending time in the mountains and enjoying the peace and quiet. Listen to the sounds of the Smokies while taking some time to disconnect from your busy, everyday life.
Now that you know all the great reasons to come stay at our campground near Gatlinburg TN during Thanksgiving, you can begin planning your holiday trip to the mountains with your family. Are you bringing the whole crew? Check out our group rates and discounts to see if you can save money on your next camping trip. We look forward to seeing you!