Experience Tent Camping in the Smoky Mountains in Our Awesome Bell Tents!
June 13, 2017
If you have ever wanted to experience the delights of camping out under the stars in the Smokies without the hassle of setting up your own tent, we have fantastic news for you! Our bell tents at the Greenbrier Campground take tent camping to the next level as they eliminate the need to put up a tent and sleep on the hard ground!
Here is everything you need to know about our bell tents to experience tent camping in the Smoky Mountains:
What is a Bell Tent?
A bell tent, which is also known as a tipi tent, is actually a simple design that is held up with a single pole and covered with durable canvas. The tent functions basically the same as any other tent where it can be unzipped to provide the fresh air of the Great Smoky Mountains!
The bell tents at the Greenbrier Campground are better than traditional tents, as they completely eliminate the time and effort of putting up your tent and tearing it down at the end of your vacation. However, that is not the only benefit, as our beautiful bell tents are also equipped with two full-size pillowtop mattresses where four guests can easily enjoy a comfortable night of sleep. As if that wasn't enough for a perfect tent camping experience, our bell tents also include a lantern and a private deck with chairs where you can enjoy the gentle sounds of the river.
Where Our Bell Tents Are Located
Our four available bell tents are situated in two different parts of the Greenbrier Campground. Our Mama Bear, Papa Bear and Baby Bear bell tents are situated close to each other on a private and wooded location on our second island. These particular bell tents are ideal for small groups such as couples who are traveling together or three families. Our Flint Tent is situated at the beach and swimming area for those who want to be a little closer to all of the action.
Amenities to Enjoy at Our Campground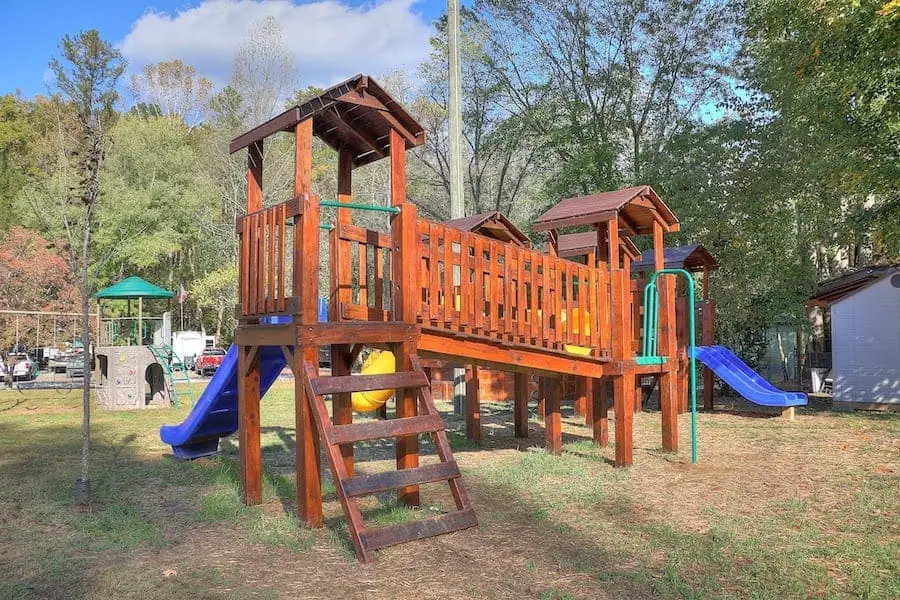 Guests staying in our bell tents have access to all of the wonderful amenities at the Greenbrier Campground! Enjoy recreational opportunities such as volleyball, badminton, corn hole, bocce ball and horseshoes. If you have young children in your family, they will love playing on our playground facilities. The Little Pigeon River surrounds our campground which provides our campers with the unique opportunity to swim in the best swimming hole in the Smoky Mountains! After a swim, take a hot shower in our luxury bath house and take advantage of our laundry facilities throughout your stay. If you need any supplies while staying in our bell tents, stop by our convenient camp store to stock up!
Take tent camping in the Smoky Mountains to the next level and stay in one of our bell tents today! We look forward to seeing you soon at our beautiful campsites at the Greenbrier Campground!