Top 4 Steakhouses in Gatlinburg
March 08, 2022
If you want to splurge on a delicious meal during your trip to the Smoky Mountains, there is nothing better than a nice steak dinner. Because our campground is just a short drive away from Gatlinburg, you can treat yourself to a fancy meal instead of having to settle for another night of hot dogs over the fire. Here are 4 of the best steakhouses in Gatlinburg you need to try:
1. Alamo Steakhouse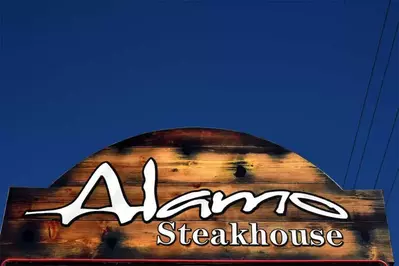 When you go on vacation, it is nice to try places that you don't have back home. Alamo Steakhouse is a locally owned steakhouse that only has two locations, one in Gatlinburg and the other in nearby Pigeon Forge. Their restaurant pays tribute to the battle of the Alamo and the brave Tennesseeans who risked their lives during the war. As far as the food goes, you will have a hard time finding a more perfectly cooked steak. They grill everything over an oak fire to sear in all the amazing seasonings and to ensure each piece of meat is tender and delicious!
2. The Peddler
As another one of the local steakhouses in Gatlinburg, The Peddler has built their business around one word: tradition. They have been sticking to the same cooking practices for decades to ensure you have the best experience each and every time you visit. That is why families have started their own tradition of eating at The Peddler each year during their vacation to the Smokies. Your meal will start off with a trip to their famous salad bar, where you can build your own masterpiece with a variety of toppings and dressings. From there, you will be treated to one of the best steaks you have ever tasted! They cook everything over Tennessee hickory charcoal, which creates a unique and unbelievable flavor.
3. Cherokee Grill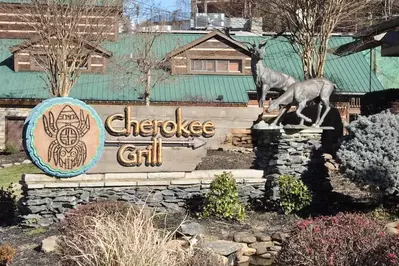 At Cherokee Grill, you will have more than just a meal. They are built around the entire dining experience. From the time you step inside the upscale mountain lodge, you will know you are in for a treat. The decor of the building is almost as remarkable as their mouth watering steaks. The exterior of the building is built with brick and stone, while the interior is accented with granite and walnut fixtures. As far as the menu, they serve a multitude of steaks, including New York Strips, Filet Mignon, and Prime Rib. If you want to step outside the box, you can try one of their specialty entrees, such as the Teriyaki Sirloin! No matter how you like your steak cooked, they will grill it to perfection each and every time.
4. Howard's Restaurant
After a delicious meal at one of these steakhouses in Gatlinburg, you can return back to our campground and chat around the campfire with your family! Reserve your spot today to start planning your dream vacation in the Smoky Mountains. We look forward to seeing you soon!