Try RV Camping in the Great Smoky Mountains With Our New Sportsmen RV Rental!
October 27, 2017
If you have ever wanted to experience RV camping without purchasing a recreational vehicle of your own, you now have the opportunity at Greenbrier Campground! Our new Sportsmen RV has all the comforts and amenities you need for a fantastic camping experience in the Smokies! Here is everything you need to know about RV camping in the Great Smoky Mountains with our new Sportsmen RV rental:
Introducing the Sportsmen RV
The Sportsmen RV at Greenbrier Campground is our new rental RV that is fully loaded with all types of awesome amenities! The RV comfortably sleeps up to 6 people and includes a private queen bedroom, set of bunks and a convertible sofa. There is also a kitchen that includes everything necessary for food preparation and storage, including a microwave, refrigerator and stove. For your entertainment, the Sportsmen RV contains two televisions inside, one television outside, DVD player, USB port and a stereo with both indoor and outdoor sound! The only thing that you need to bring is your own linens, pillows, towels and toiletries.
Reasons to Stay in Our New RV
Try Something Different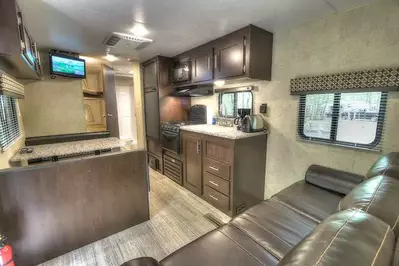 Our new Sportsmen RV at Greenbrier Campground provides the perfect opportunity for those who always thought about owning their own RV, but wanted to try staying in one first! This is also a unique chance to try an alternative to tent camping or staying overnight in a cabin. Once you spend a night or two in the Sportsmen RV, you might be hooked onto RV camping in the Great Smoky Mountains for a lifetime. Come find out for yourself what RV camping is all about!
Convenient Alternative for RV Owners
Even if you already own a RV, you might not want to bring it to the Smoky Mountains due to long travel distances, arrival to the region by plane or other reasons. As an RV owner, we know that you obviously enjoy the RV camping experience, so check out our Sportsmen RV for your stay at the Greenbrier Campground!
Ideal Location
The Sportsmen RV site is located just steps from the Little Pigeon River and is convenient to the playground, swimming area and beach area at Greenbrier Campground. The campground itself is only a short walk from the Greenbrier entrance of Great Smoky Mountains National Park where you can enjoy miles of excellent hiking trails!
About Greenbrier Campground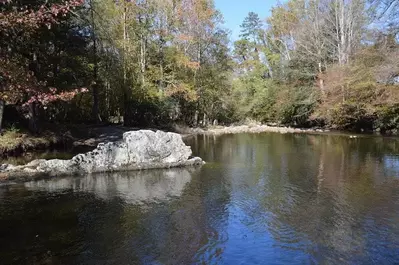 Greenbrier Campground offers 100 full hookup campsites, with everything from premier river frontage sites to wooded sites. The Little Pigeon River runs around the perimeter of the campground and provides our campers with the best swimming hole in the Smokies! While staying with us, enjoy recreational activities such as volleyball, corn hole and horseshoes. Other campground amenities include a luxury bath house, laundry facility, game room and camp store. We also are pleased to offer our guests complimentary wireless Internet access throughout their stay.
Check out our new Sportsman RV rental today to enjoy the best of RV camping in the Great Smoky Mountains! We look forward to seeing you soon at Greenbrier Campground!