Top 4 Reasons Why Our Campground in the Smokies is Perfect for Stargazing
June 07, 2019
One of the most beautiful things about the Great Smoky Mountains is seeing the night sky come alive with thousands of stars! Since our campground is in a remote location away from city lights, you can have a clear and crisp view of these celestial wonders. You will want to plan a Smoky Mountain vacation when you hear about why our campground is perfect for stargazing! Here are the top 4 reasons why our campground in the Smokies is perfect for stargazing:
1. Ideal Viewing Conditions
We have ideal viewing conditions for stargazing! Our campground in the Smokies is miles away from Gatlinburg, Pigeon Forge, and other towns that have lights that will affect the views of the night sky. You can step out of your tent or RV in total darkness to see the stars like you have never seen them never before, especially for guests who may live in metropolitan areas or suburban towns with a significant amount of light pollution. Since we are away from major cities with light pollution, you can easily see the full night sky full of stars at our campground in the Smokies.
2. Surrounded by the Mountains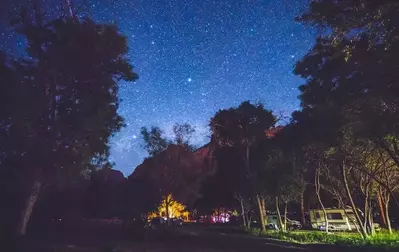 Since our campground is completely surrounded by the Great Smoky Mountains, you can enjoy an unobstructed view of the stars! Without lights from the city, you'll be able to stargaze at our campground easily. Be sure to bring a star chart along with you since this is a fantastic opportunity to find famous constellations such as Orion, Ursa Major, Ursa Minor, and more! As an alternative, there are several cell phone apps you can download to help you find constellations. Our campground in the Smokies even offers complimentary wireless internet access!
3. No Need to Drive Anywhere
While guests staying at hotels and condos in Gatlinburg may need to drive a fair distance to escape the city lights, campers at the Greenbrier Campground don't need to drive anywhere to witness the beauty of the night sky! Simply relax in front of your campsite with your family and friends as you watch the stars sparkle. At the end of your evening, you can just head to bed at your campsite rather than having to drive back to a hotel room!
4. Fun Atmosphere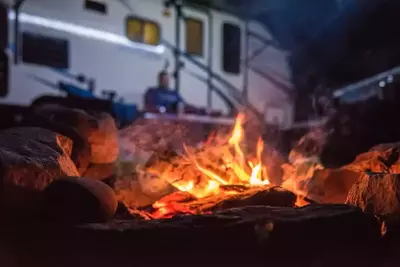 Stargazing is a fun activity, and our campground in the Smokies adds to the fun atmosphere! All of our campsites feature a fire pit, so you can kick back by the fire, prepare tasty treats such as s'mores, and enjoy the stars twinkling in the heavens above! If you have young kids in your family, this is a wonderful opportunity to talk about astronomy and point out some constellations. You are sure to remember your nights spent under the stars at the Greenbrier Campground long after your vacation to the Smokies is over!
Stargazing in the Smoky Mountains is an unforgettable experience! Check out all of the information about our campground in the Smokies today to plan your camping adventure under the stars! We look forward to seeing you soon!