Top 4 Tips to Stay Cool in the Summer at Our Campground in the Smoky Mountains
May 28, 2019
One of the best things about a summer vacation is the warm sunshine and the long daylight hours! While the weather in the Smokies is usually quite moderate, there may be a heat wave every now and then. There are several things that you can do to stay cool so you enjoy every minute of your camping adventure with us! Here are 4 tips to follow to stay cool in the summer at our campground in the Smoky Mountains:
1. Enjoy Our Swimming Hole
One of the best things about taking a summer vacation to our campground is the opportunity to enjoy Flint Rock, the best swimming hole in the Smoky Mountains! Swimming at Flint Rock is a fantastic way to cool off and feel refreshed on a sunny summer afternoon. Mountain water is typically freezing cold, so it's definitely the best way to stay cool on hot summer days. There is also a private beach for campers where you can relax after taking your dip. Be sure to remember to pack your bathing suit when preparing for your vacation at our campground in the Smoky Mountains!
2. Disassemble Your Tent During the Day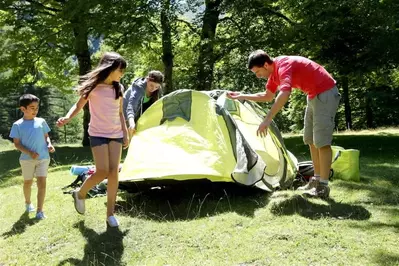 If you are tent camping at our campground during the summer, you can stay cool by disassembling your tent during the day. While this may initially sound like a hassle, your tent actually acts like a greenhouse during the daylight hours, absorbing the sun's rays. As a result, it stores heat and can make the interior of your tent feel like a sauna. If you disassemble your tent after waking up and assemble it again once the sun sets, it will be well worth the effort for the cooler temperatures as you're trying to fall asleep!
3. Use a Portable Fan
An easy way to stay cool while camping at our campground in the Smoky Mountains is to use a battery-operated, portable fan. This type of fan provides a nice breeze that runs all night long and keeps you comfortable as you drift off the sleep. When you are looking to purchase a camping fan for your trip, try to find one that can attach to part of your tent, is lightweight, quiet, and portable. It can also be beneficial to buy one that has foam blades since you will be using it in close quarters. You'll be glad you grabbed a portable fan for warm summer nights!
4. Take a Cool Shower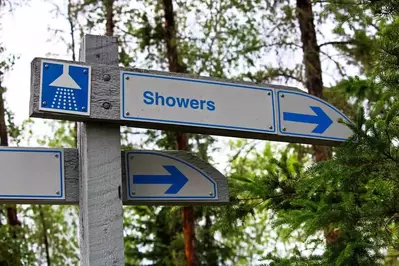 One amenity you'll love taking advantage of during the summer is our bath house. If you get too hot after a long day of activities, cool off with a cold shower! After spending time outdoors, whether you're playing volleyball or returning from a hike, nothing feels better than a rinsing off with cool water. When you shower in cold water, this will bring down your body's internal temperature. You'll immediately feel more comfortable!
Check out all of the information about our campground in the Smoky Mountains today to plan your summer camping adventure in the Smokies! We look forward to seeing you soon at the Greenbrier Campground!