4 Reasons to Rent a Bell Tent at Our Smoky Mountain Campground
January 12, 2021
Camping in the Great Smoky Mountains is an awesome opportunity to get closer to nature and really unplug. At Greenbrier Campground, we understand that everyone has different expectations for their trip, so we provide different options for how you choose to camp. Our bell tents are comfortable tents that are already set up with beds inside so all you have to worry about is showing up and having fun! Here's why you should rent a bell tent at our stunning Smoky Mountain campground for your next camping trip:
1. Convenience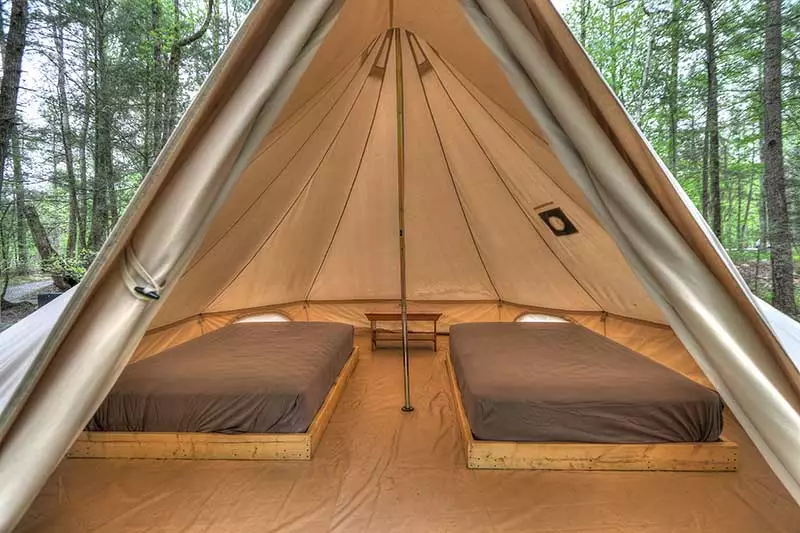 Staying in a bell tent at our beautiful campgrounds will allow you to cut out a lot of the work that can come with camping. Our bell tents are already completely set up so you won't have to worry about packing a tent or setting aside a ton of time to get it set up! Just arrive to your campsite and everything will be ready for you! Our bell tents are already equipped with two full sized pillow top beds, so you won't have to sleep on the hard ground. All you need to bring are pillows and blankets to make yourself at home. Each tent also has a seating area outside with a table and two chairs. Renting a bell tent will save you time on packing and setup so you will have more time to enjoy your vacation at our Smoky Mountain Campground!
2. Variety
Our bell tents are also a great option because of the variety they offer. If you're traveling with a group check out our Mama Bear, Papa Bear, and Baby Bear tents located on our more peaceful second island. These secluded tents are perfect for a larger family or a group of couples traveling together. Our Flint Tent is located near the beach and swimming area so it's ideal if you want to be closer to the action. Finally, our Smoky Bear Tent is great for families because it has a large yard and is located just steps from the bath house, the river, and the playground.
3. Amenities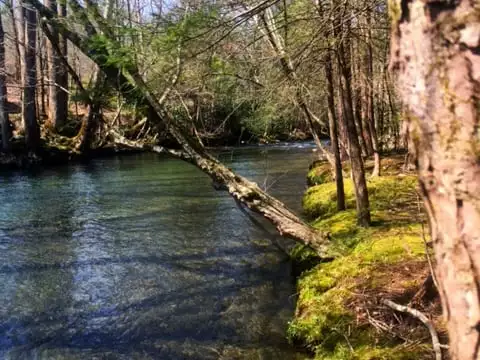 Guests who stay in a bell tent also get access to all of our awesome amenities! Our campground is located right by the Little Pigeon River, so visitors can enjoy our swimming hole, or go trout fishing if they have a license. We also have volleyball, badminton, bocce ball, cornhole, and horseshoes, as well as all the necessary equipment. In addition, we have complimentary wifi throughout the campground, a laundry facility, a free game room, golf cart rentals, and more. Renting a bell tent allows you to use all these amenities while taking your camping trip to the next level.
4. Versatility
The bell tents at our campground offer versatility so you can enjoy your campsite however you want. The entire tent can be unzipped so guests can enjoy the sights and sounds of the Smoky Mountains and the Little Pigeon River with the safety of netting and durable canvas. In addition, the tents come with string lights to be used inside the tent, so your campsite can be an ambient setting whether it's day or night!
Our campground has an option perfect for any group of visitors. Bell tents provide a convenient and pleasant camping experience without leaving the campground. Rent a bell tent now to camp in our Smoky Mountain campground with comfort and ease.